'Parks And Recreation' Season 7 Spoilers: First Premiere Trailer For Futuristic Final Season Released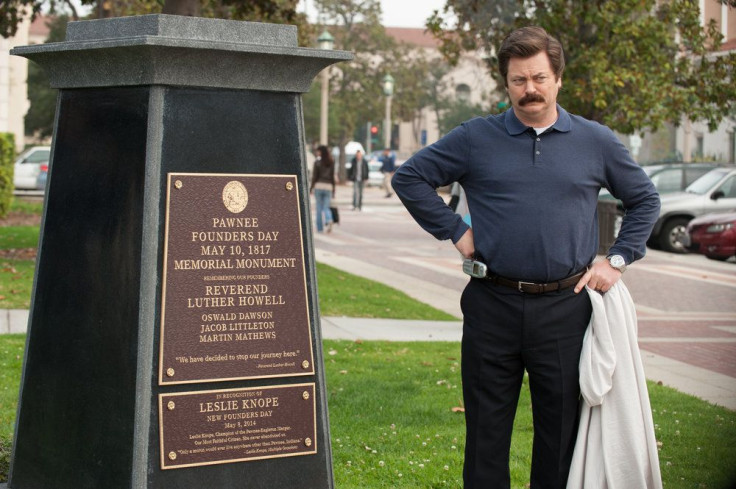 "Parks and Recreation" is going back to the future when the final and seventh season of the hit NBC series airs its premiere on Tuesday, Jan. 13. And we have to admit, we don't know if we're ready for what the year 2017 has in store for Pawnee!
The Season 6 finale of "Parks and Rec" ended with a major cliffhanger – one that time jumped three years in advance. Executive Producer, Michael Schur, explained to Entertainment Weekly the madness behind his futuristic method.
"We talked about a bunch of different scenarios," Schur revealed, adding that one of them was to fast forward nine months so that Leslie (Amy Poehler) -- who was pregnant with triplets -- and Ben (Adam Scott) would have started their family.
"We sped through the entire pregnancy and birth and the first week at home and all of that stuff. And then it was like, 'If you're going to jump nine months or a year, do something that really suggests that a lot of stuff had happened.' ... It was a gut-level thing," he told Entertainment Weekly. "We talked about: Is it five years? Is it 10 years? It seemed like enough time to be for really radical change without everybody having gray hair."
So instead of fast forwarding the clock to a time where Leslie would lead the government with a cane in tow, Schur and the "Parks and Rec" crew opted for a three-year time jump.
Curious as to what your favorite characters will be up to in 2017? Well, the first promo video for the Season 7 premiere teases just that! In the trailer, it was revealed that Leslie and Ben will be making their twosome a trio with the unexpected visit of a drone dubbed SkyPal. Meanwhile, Andy (Chris Pratt) will be kicking off the final season with his very own karate-based TV Show, which will feature a guest appearance from Terry. Terry is the new name given to Garry, who we know best as Jerry (Jim O'Heir).
"I go by Terry now," Jerry said in the Season 7 trailer. "Except my real name is Garry, and they said, 'Who cares?'"
The "Parks and Rec" trailer even touched upon what Tom (Aziz Ansari) will be doing in 2017. "I'm a mogul now," Tom says, dressed in a glittery suit. As Tom rings in his new success in a sparkly fashion, April (Aubrey Plaza) will be spending her free time in the future sifting through her newsfeed – futuristic style.
Are you excited to see Pawnee in 2017? Sound off in the comments section below and don't forget to tune in to the final season of "Parks and Recreation" when Season 7, episode 1 and 2, "2017" and "Ron & Jammy," air Tuesday, Jan. 13, at 8 p.m. EST on NBC.
© Copyright IBTimes 2023. All rights reserved.