Paul McCartney Needs to Gracefully Retire
OPINION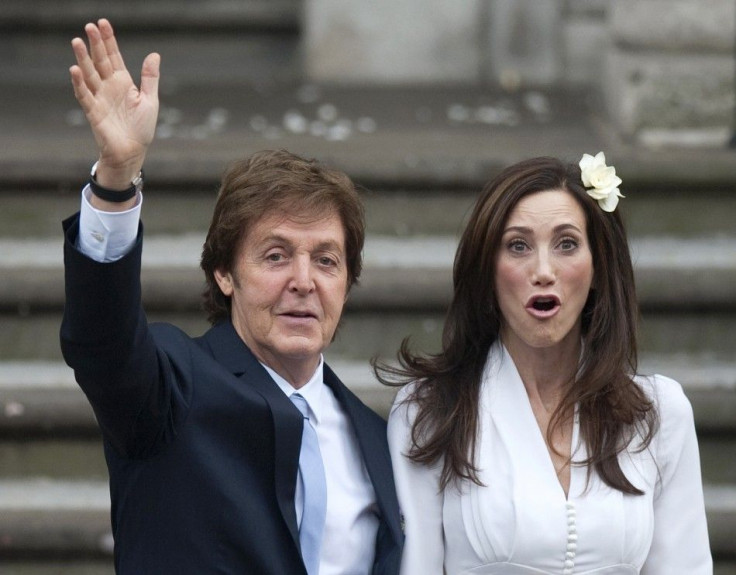 I am probably the world's biggest Beatles fan. I have loved the group since I was a child and could probably recite the lyrics of every one of their 200-plus original songs.
I will not bother detailing what made the Fab Four so extraordinarily brilliant musically or so monumentally important to global culture (all that has been examined exhaustively by thousands of others).
What I am now focusing on is one James Paul McCartney, or, Sir Paul as he is now affectionately known.
McCartney needs to retire from the public eye -- almost every public appearance he has made over the past 30 years has been embarrassing and has served to tarnish his sterling contributions to The Beatles.
The songs he wrote for The Beatles (including classics like "Hey Jude," "Let it be," "Yesterday," "Lady Madonna," "Fool on the Hill and "Penny Lane," among dozens of others) are among the greatest masterpieces of pop music and will last forever. His contributions to music and pop culture cannot be overestimated (I would even go so far as to say that McCartney was crucial to the success of The Beatles and thereby one of the most important cultural figures of the 20th century).
However, Paul is addicted to the limelight. He simply cannot get enough of it -- and I think millions of Beatles die-hards (including me) are sick and tired of it.
The latest "news" about Paul is that he is marrying for the third time -- some American woman named Nancy Shevell. I certainly hope that he finds some happiness with her (since his last nuptials with Heather Mills turned out to be a costly disaster).
Even more upsetting than McCartney's frequent media appearances are the endless concert tours he performs in (which, due to the huge appetite for nostalgia, still draw the faithful, the curious and the bored).
Paul McCartney is now almost 70 years old – SEVENTY – that is "elderly" by anyone's standards.
Rock and roll is all about youth – Paul hasn't been young since John F. Kennedy was president of the U.S.
McCartney (who clearly is not working because he needs the money) simply cannot let go of the fantasy world he lived in 40 to 50 years ago. He tries to cling to his youth, and he looks utterly absurd doing so.
His hair is still unnaturally long and preternaturally dark brown (although thankfully the face has fallen). Since the deaths of John Lennon and George Harrison, he has taken it upon himself to carry on the Beatles legacy single-handedly (Ringo Starr apparently does not count).
Even more distressing, Paul has been trying to "rewrite" history by claiming that it was he, and not Lennon, who was the true innovator and rebellious spirit behind the Beatles (this may actually be partially true, but it makes Paul look very small and petty in trying to downgrade the contributions of a man who has now been dead for three decades).
Also, notice how McCartney got married on Oct. 9 -- Lennon's birthday?
Moreover, every time Paul makes some kind of comment on politics or the environment, he not only sounds ill-informed, immature and amateurish – but desperate for attention.
George Harrison, who tragically died 10 years ago, had the dignity and wisdom to withdraw from the glittery (i.e., fake) world of show biz and rock concerts to spend his life peacefully in his gated estate in Henley-on-Thames. He knew that it was ridiculous for a man in his mid-50s to "rock out" and pretend he was still a young Elvis.
McCartney (who is now in the seventh decade of his existence on earth) should do likewise. He also hasn't written a half-decent song since Margaret Thatcher was in her early term as British PM.
Oh, and the surviving members of The Rolling Stones, The Who and Led Zeppelin and any other dinosaurs, should also be put out to pasture.
Finally, rock-and-roll is totally unlike other musical genres like jazz, blues, Big Band, bluegrass and country, among others. That is, the finest performers in these areas – Frank Sinatra, Bing Crosby, Dean Martin, Nat King Cole, Louis Armstrong, Tony Bennett, Muddy Waters – performed in public well into old age without losing any credibility or legitimacy whatsoever. These are timeless and ageless performers.
But rock is for the youth, and a rejection of the old. Isn't that what rock was originally supposed to be all about?
FOR FREE to continue reading
✔️ Unlock the full content of International Business Times UK for free
offer available for a limited time only
✔️ Easily manage your Newsletters subscriptions and save your favourite articles
✔️ No payment method required
Already have an account?
Log in
© Copyright IBTimes 2023. All rights reserved.