Peng Liyuan: China's New First Lady Quickly Becomes Pop Culture Icon [VIDEO]
Popular culture has a long history of latching on to the beautiful wives of politicians and leaders. There were Jackie Kennedy and Eva Perón, then Princess Diana, and most recently Michelle Obama and Kate Middleton. Now, for arguably the first time, China has its first first lady symbol.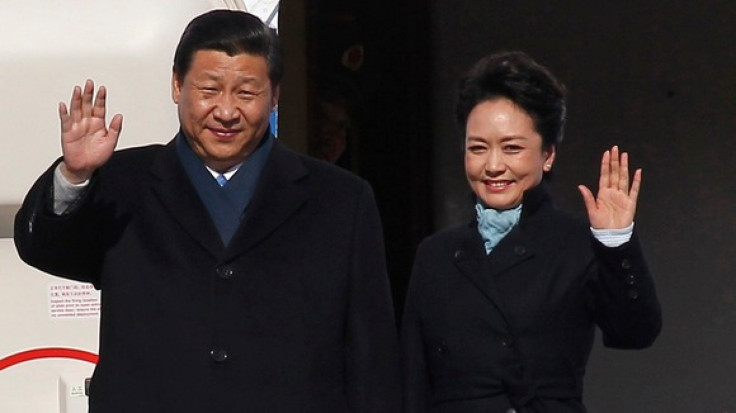 Peng Liyuan is the wife of newly installed Chinese President Xi Jinping, and she made her first public appearances alongside her husband on a series of international trips.
Peng, 51, has China's citizens on social media buzzing, after her debut arriving in Moscow on Friday with her husband, who met with Russian President Vladmir Putin. The reaction to the elegant and fashionable Peng has many people crowning her the chicest first lady China has ever seen.
"So beautiful, Peng Liyuan, so beautiful! How composed, how magnanimous," one user wrote on Weibo, China's Twitter-like microblogging service, according to news-blog TheShanghaiist.com.
Already, an online Chinese shopping website similar to Amazon or eBay has begun advertising "First Lady Coats," which are cheaper, copycat versions of the coat Peng was seen sporting in Moscow.
Peng is already different from the largely unknown women who preceded her as first lady. She had found celebrity even before Xi Jinping was anointed by the Communist Party as China's next leader. She made a name for herself independently as a folk singer, as well as being a philanthropist and holding the rank of major general in the People's Liberation Army -- a rank which she earned as a military singer, not for combat. Many Chinese have quickly fallen in love with Peng, even daring to call her their very own version of Michelle Obama or Kate Middleton, who have become pop-culture darlings for their stylish public appearances.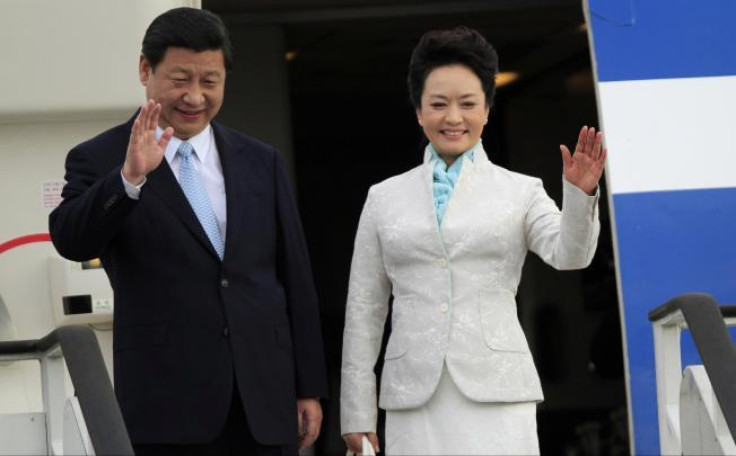 "The U.S. has Michelle, we have Peng Liyuan," another blogger agreed.
In the past, wives of China's top leaders were typically very private and kept a low profile, rarely accompanying their husbands to public events, let alone his first official international trip. According to the Telegraph, Peng's past working with HIV/AIDS outreach for the World Health Organization piqued her interest in Africa, and she is expected to remain in the limelight through relevant public events.
According to CNN, Peng's humble upbringing is also a welcome contrast with China's political elite, most of whom are "princelings," the sons and daughters of former political powerhouses. She was born in northeastern Shandong Province, to a family of artists. At 18, Peng enlisted with the People's Liberation Army as a soprano member of their arts troupe (she can be seen in the video above). Peng's first brush with national fame came in 1983, when she captivated Chinese audiences while performing at the annual Lunar New Year Gala. She later performed it almost every year until 2007, when Xi was eyed for a top position in the Communist Party.
Now, after Peng's public resurgence, some are also hopeful that she will also be able to serve as a symbol of a more human China, unlike the cookie-cutter politicians who currently sit in the highest leadership positions.
"If people see Xi has such a beautiful wife, it would make the party seem more human and less robotic," Li Yinhe, a sociologist at the Chinese Academy of Social Sciences, told the New York Times.
© Copyright IBTimes 2023. All rights reserved.
FOLLOW MORE IBT NEWS ON THE BELOW CHANNELS