People Love Their Tablet Computers, Survey Finds
Pew Research Finds Tablet Readers Don't Like Paying for News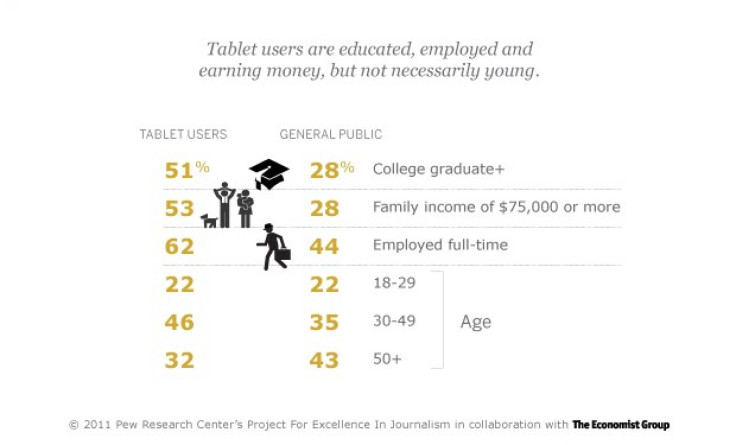 A study this summer of 1,159 tablet owners has been released by the Pew Research Center, and it details who's buying tablets and what they are doing with them.
It's valuable marketing information to be sure, but it also points to several trends in the consumer technology world. First, the study showed that more people are reading the news on their tablets than playing games or using social media. But it also shows more tablet users are using their Web browser as opposed to separate apps for their news.
That's probably due in part to the limited number of tablet apps compared with smartphone apps. The study is titled, The Tablet Revolution and What it Means for the Future of News, and it shows that tablet users love reading the news. Fifty-three percent of those surveyed said they consume news daily on their tablet. The only thing they did more was send email, at 54 percent. Fully two-thirds of tablet owners have news apps, but most still get news inside their Web browser. The study said developers love apps.
When it was launched, many observers believed that the tablet might help change the experience of news consumers and the economic ground rules of digital news consumption, the report said.
That belief was based on the sense that people would consume information on tablets largely through special applications or apps that provide content from a favorite news organization like the New York Times or one's local newspaper.
Forty percent that read news got if in a Web browser. Thirty-one percent use both the browser and a news app, and 21 percent mostly use apps to get their news. The study found that 11 percent of American adults own a tablet of some kind, and they spend on average 90 minutes a day using it. Furthermore, only 22 percent of tablet owners are under 30. They are most likely to use their tablets every day and to be highly satisfied with the experience of using the tablet.
Let us know in the comments if you've replaced your television or newspapers with a tablet computer.
© Copyright IBTimes 2023. All rights reserved.