Period-Tracking App 'Clue' Connects Women And Researchers With Personalized Reproductive Health Data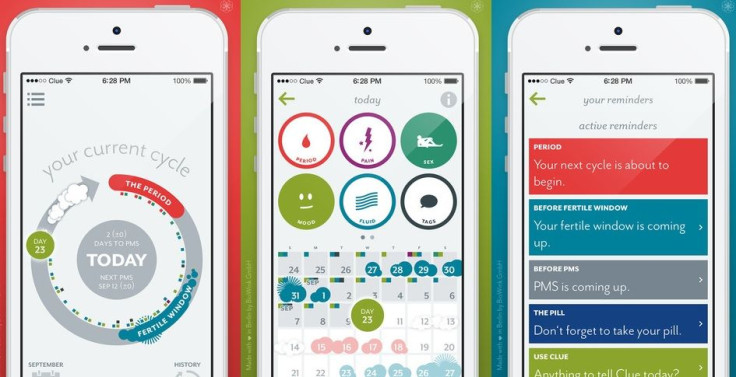 Even with the modern conveniences of computers and smartphones, tracking reproductive and sexual health can be difficult and boring. At doctor's offices, women are expected to recall the date and details of their last period. Each day, it can be a struggle remembering to take a birth control pill. What women want -- and medical professionals and researchers crave -- is convenient, accurate and intelligent health data.
Meet Clue: a mobile app for inputting and analyzing personal health information. With large, colorful buttons for several health topics, the app tries to make data entry fast and fun.
"Great all around; I've enjoyed using this and feel like a research scientist every time I input data," one app user submitted to Clue. Another wrote: "It's great to get the notifications when I get too busy with life. I can share info with my doctor much easier because Clue does the work for me. Simple design and very user friendly. I have recommended it to all my girlfriends and even my daughter."
Clue isn't the first of its kind. In fact, there are over 250 "period tracker" apps listed on Apple's App Store. Other apps have gained notoriety such as San Francisco-based Glow Inc., which was launched by PayPal co-founder Max Levchin and boasts helping 50,000 women get pregnant. Period Tracker by ABISHKKING has over 10 million downloads.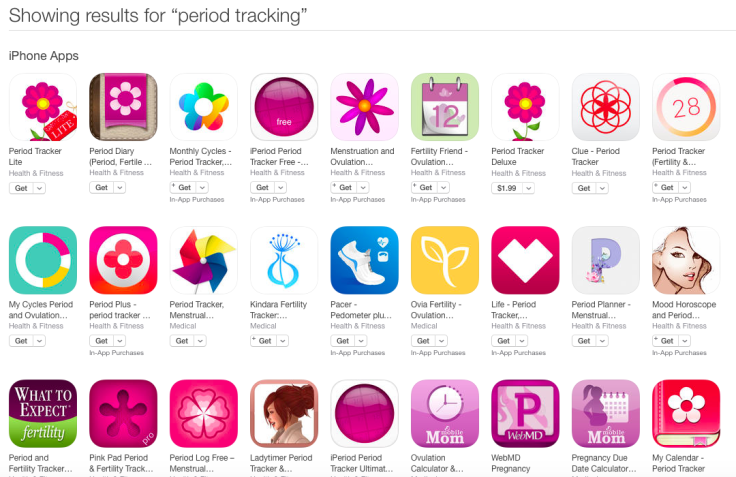 But Clue is proving to be a leader in the area where health meets technology for both average people and medical researchers. This week, the app reached 1 million active users. The Berlin-based company has users across 180 countries -- 40 percent in the United States with the United Kingdom, Germany and France as the next highest -- and is currently eyeing China as its next major market. Clue is also working with researchers at Columbia University to coordinate data collection for a girls' health study in an effort to drive medical research forward.
"People want to be able to share and understand their data," said co-founder and CEO Ida Tin. "We have so many people asking for more categories from us. I hope that we can support women with knowing their bodies."
Products By And For Women
Creating Clue did not just fulfill a business dream for Tin, but rather a personal need. The 36-year-old entrepreneur from Denmark -- who spent much of her young adulthood traveling and previously ran a motorcycle touring company -- had negative side effects to being on a birth control pill while in her early 20s.
She reported symptoms that included depression and a lowered sex drive. With the help of her doctor, she was able to identify the culprit as her prescription. "What if I hadn't made that correlation?" she said. And when she got into a long-term relationship, Tin said she grew tired of condoms as a precaution to unwanted pregnancies.
Those motivations inspired Tin to make it simpler to monitor her own health. She had tried using a computer-based, temperature-tracking model, but that didn't have the accessibility of her phone. And so, in 2010, she moved to Berlin and began developing Clue.
While other apps in existence were focused on helping with fertility, Tin chose to target her app to the women who simply needed a general health-tracking tool. "We were focused on getting more people to track their health, making it as easy and helpful as it can be," Tin said.
Instead of requiring data entry for all the categories, users can opt into each one. The app provides sections for tracking periods, pain, sex, mood, fluid, pill and temperature. For example, tap on the round purple "Pain" sticker and the app brings up squares reading: "Cramps," "Headache," "Ovulation" and "Tender Breasts". While these pains may not be fun to dwell on, the colors and accessibility hopes to make it a little less of a painful experience, Tin said. Additionally, users have cited the sex category as a fun component.
'People Want Us To Have Their Data'
Privacy and data security are of the utmost concerns for Clue and Tin. The company added a passcode feature shortly after launch that allows users to protect their app further than just the phone's initial security lock. Tin also noted that the app was designed to be discreet -- not pink.
App users can also choose to have their data only save on their smartphone and not create an account that would store the data on the company's server and be able to be accessed on different devices. "We've seen more people want us to keep their data safe, so they don't lose it. People want us to have their data," Tin said.
Shareable data is one of the unexpected drivers that has motivated Tin to continue expanding the product and delving into partnerships. For instance, the app is currently adding a feature that allows users to send data directly to a partner's phone (something that competitor Glow currently allows).
Clue will be integrated with Apple's HealthKit when the company adds reproductive health tracking in the upcoming software update iOS 9. Apple faced criticism for not introducing that feature earlier, and the tech giant responded by reaching out to some of the popular apps in that space -- including Clue. "They wanted to hear our perspective on what's important and what data they should collect," Tin told Fusion's Kashmir Hill.
The company isn't worried about competition with Apple. "Maybe it's naive, but I think we're the perfect match. What's important now is that they have integrated, and we're very keen on working together," Tin said.
We Aren't A Doctor, But We Can Help
By inputting data into Clue, users can have a reference to remember when their last period was, but the app's algorithm also works to predict the next ones. One user wrote into Clue: "So I got this app to finally figure out my wife's cycle after 12 years. After 3 months I was able to set reminders on my calendar for PMS and the start day of her period. I know now when to let her be mad and not get defensive."
Tin said she was startled after one avid user referred to her as her gynecologist. "Oh my gosh, no, I am not a doctor. I may know a few things, but we cannot give you all your medical advice," Tin said. While Clue does create a health report and provide some cited medical literature, the app is neither a certified doctor nor a prescribing medical official. But Tin said she does see partnerships with researchers as one of the app's greatest values. The company is currently working with Mary Beth Terry at Columbia University Mailman School of Public Health, who focuses her research on breast cancer.
"For most health studies, we request that people recall health information and if they are going to track it they record it daily, which can be very cumbersome," Terry said. "The data quality that you can get from this app is useful not just for predicting cycle length but could be important in menopause research."
Terry came across the technology after an intern on her research team explained she had been using an app to keep track of her own cycle. The intern researched other data-tracking apps and looked to identify one with multiple language options and compatibility on iOS and Android, which is how they ended up choosing Clue.
Next Step: China
No money is exchanged in Clue's partnerships with research labs. As of now, Clue has not generated any revenue and declined to comment on future business strategies. Instead, the company is expanding its market by prepping a launch in China -- a country that already has a popular health-tracking app called Dayima -- with other 100 million downloads and $30 million in venture capital funding.
But perhaps future revenue strategies could include profit-making partnerships or added features. Indeed, competitor Glow launched "Glow First" -- a not-for-profit fund that helps offset the cost of fertility treatments. Participants contribute $50 each month for 10 months. That pool is divided among those who did not achieve a natural pregnancy after 10 months of actively trying. In affiliation, the company launched "Glow For Enterprise," where businesses can opt into covering the fee. Eventbrite, Evernote and Lyft are among the participating businesses.
For now, Clue is supported by $3 million in angel funding and is currently in conversations for a Series A round.
© Copyright IBTimes 2023. All rights reserved.