'PewDiePie: Legend Of The Brofist' Aiming For August Or September Release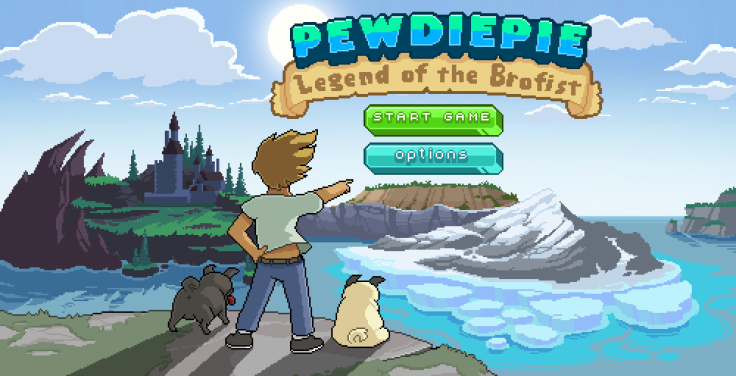 YouTube celebrity and millionaire PewDiePie, aka Felix Arvid Ulf Kjellberg, announced a few months ago a side-scrolling mobile game called "PewDiePie: Legend of the Brofist," and it appears it may be released in either late August or early September. The online sensation made his name by playing various video games in his videos, so it will be interesting to see how well his game, developed by Outerminds Inc., does among fans.
PewDiePie mentions the information about the mobile game's release date in one of his recent YouTube videos, in which he plays one of the game's levels. At the beginning of the video, he gives fans an update on the game's progress and reveals the possible release date. That said, he did note it wasn't definitive yet, although he expressed the hope it would be released soon.
"Legend of the Brofist" is a side-scrolling game with some random gag elements that work well with PewDiePie's sense of humor. Fans can collect so-called Bro Coins while playing to purchase upgrades of the game, as Pocket Gamer pointed out.
As for the level of the game that PewDiePie played in the video, it involves saving dogs and other friends from evil barrels, indicating how imaginative -- and random -- the game levels are.
Fans were involved in developing the game, as they made suggestions to Outerminds and even voted to title it "Legend of the Brofist."
PewDiePie isn't the first online celebrity to get his own video-game title, although he might be the most famous, as his videos average about 3 million views. Based on James Rolfe's "Angry Video Game Nerd" Web series and developed by FreakZone Games, "Angry Video Game Nerd Adventures" was released in 2013: It was ported to the Nintendo 3DS and Wii U this year.
Given the announcement of a possible release date window, gamers soon may be able to get "PewDiePie: Legend of the Brofist" on both Android and iOS devices.
PewDiePie: Legend Of The Brofist (Credit: YouTube/PewDiePie)
© Copyright IBTimes 2023. All rights reserved.