What Is YouNow? Live Video Streaming Service Is Catching The Attention Of YouTube, Vine Stars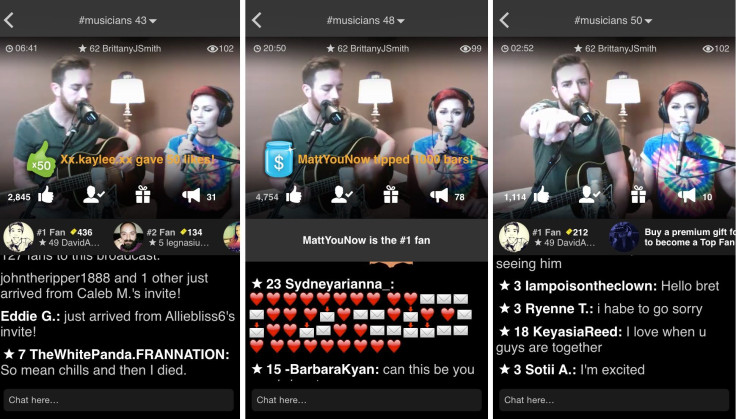 Brent Morgan, a 27-year-old Alabama-based musician, tried to make a living off of YouTube, but couldn't gain a following big enough to make make meaningful money from advertising. Then he came across YouNow, a live streaming service that allows artists, musicians or anyone work for tips.
Morgan, who gave music lessons to 45 students at a time, now makes a living streaming live on YouNow to thousands of fans who give him small donations in the form of "bars," a virtual currency which is now Morgan's key source of income.
What apps Periscope and Meerkat have done for reporting and television news, YouNow is doing for the entertainment business. The live streaming app -- which boasts 100 million broadcasts and views a month -- allows viewers to comment, communicate live with performers, and most importantly for Morgan and 500 other "partners," to pay directly for the privilege. If Justin Bieber was discovered as a 13-year-old on YouTube in 2007, there's a chance the next Bieber taking requests from fans on YouNow.
Backed by $15 million in venture capital funding led by Union Square Ventures and Venrock, the New York-based company has investors excited in part because it departs from the traditional video advertising model used by YouTube, Hulu and, well, television.
"Almost by definition advertising is a tax that the user has to pay in order to see the content. If we can avoid taxes to make money, that's better," said Oren Zeen, YouNow's lead investor and board chairman. "Most of the users are not going to pay ever -- similar to the way games work like Candy Crush -- but the few that are going to pay, they get enhanced experience and subsidize everyone who's not paying."
Viewers can pay anywhere from $0.99 to $49.99 to promote a video and their own comments in an effort to catch the attention of the broadcaster. If a broadcaster is signed on as a partner, they receive a cut -- over 50 percent -- of the payments.
Through its paid partners program YouNow is building its own celebrity team. More social media-born stars -- with YouTube sensation Tyler Oakley and Vine star Jerome Jarre doing broadcasts -- have started to take notice. "I talk to my YouTube friends all the time, and to be honest, they're kind of scared of YouNow coming," said Morgan, who supports his music career from his YouNow cut. Most partners earn four figures, with a few earning five, per month.
It's Not Just Live, It's Interactive
Imagine going to a concert but you control the set list. On YouNow, broadcasters are inundated by a public stream of live comments side-by-side with their video. These are filtered based on users paying for giant stickers or sending over virtual currency, referred to as "bars." Viewers and streamers can see a list of the top fan contributors, and big donations will broadcast across the video screen in real-time.
Morgan will have live sessions where they will have planned sets but also cater to what the audience asks for, and they'll mix their sets with shoutouts. For example, in a broadcast Wednesday afternoon after witnessing an influx of cash from one fan, Morgan changed lyrics of a song to, "Thank you Flippin for the 1000 bars."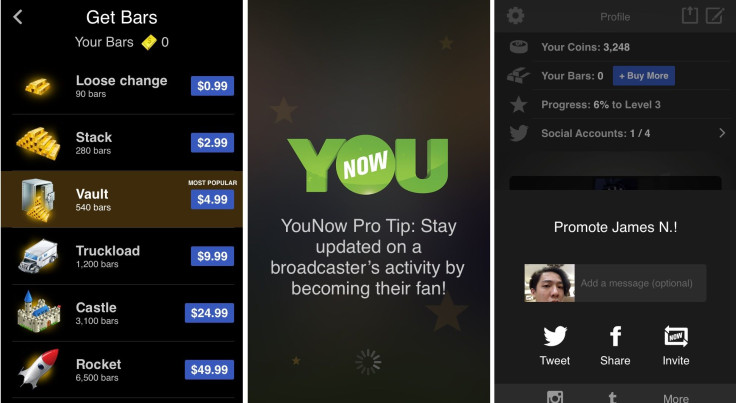 YouNow began in 2011 as a desktop-only live broadcasting site that gained the off-and-on attention of some big entertainers and has since started to become a competitive network, thanks to the hotness of live streaming and the prevalence of smartphones. "The thread between all of [the previous sites] is that they were pre-mobile and pre-social and that's what's become essential to get critical mass," said YouNow CEO Adi Sideman. "With mobile, it's opened the door for a successful synchronous experience."
Viewers can also send out push notifications to their YouNow followers' phones to check out a broadcast. Simply swipe, and you're there. "Even my mom can figure it out," Morgan joked.
There's also direct sharing available to social networks Facebook and Twitter. Broadcasters, like Morgan, will encourage these actions to gain a larger following that will not only help push him to the Trending list on the site's main page but also affect the pricing on the virtual currency.
From Scarcity to Free-Riding
YouNow has evolved significantly in its short history -- not only in interface improvements but with a shift in a business play driven by economic theories. Previously, only a few broadcasters were allowed to stream, and users could choose to upvote or downvote them (Reddit-style). "We wanted to create a sense of scarcity, but then you didn't know how long you would have to stand in line until you could broadcast, and that was frustrating," said Zeev, who invested early on in the company due to his faith the CEO Sideman and interest in backing a new industry.
Now, anyone can start a broadcast and work to get pushed to the top, all curated by the audience, and there's no downvoting, only choosing to leave a broadcast. Morgan started actively performing on YouNow in January and was shortly convinced by others on the network to apply to be partner -- an initiative that the company launched in late October 2014.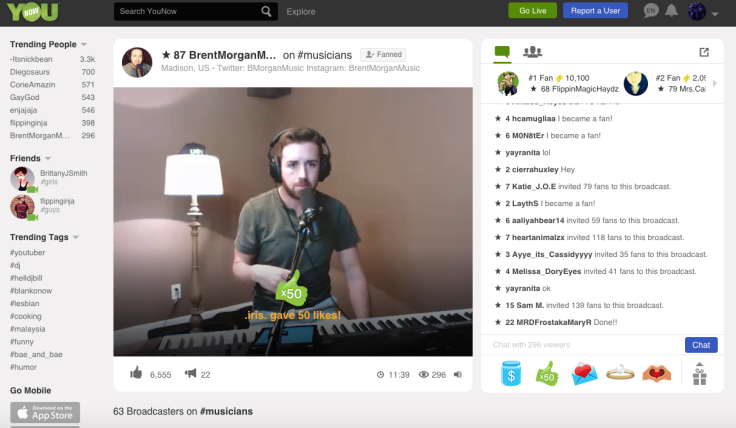 The more broadcasters stream, the more likely they'll get paid. For Morgan, he's held formal sessions in his bedroom and also impromptu ones -- each earning him a salary. Morgan said, "I was at the airport at 4 a.m. once and had 260 people watching me. I made enough money that night for dinner."
© Copyright IBTimes 2023. All rights reserved.