Phil Collins Marks Final Show With Genesis Band In London Amid Health Woes
KEY POINTS
Formed in 1967, the band's concert tour came after a 14-year live performance hiatus
Having suffered severe health issues in recent years, Collins let his son play the drums
Lily Collins paid tribute to her father's band by sharing concert clips, backstage photos
British music legend Phil Collins bid farewell to fans of his band, Genesis, as they staged their final concert in London.
The band performed at London's O2 Arena for "The Last Domino? Tour," the group's first concert tour following a 14-year live performance hiatus. The 71-year-old drummer, singer and songwriter made the announcement as he sat on a chair at the center of the stage during the concert Saturday night, People reported.
"Tonight is a very special night. Of course, we're playing in London. It's the last stop of our tour, and it's the last show for Genesis," he said amid screams and applause from the audience. "It's difficult for us to believe that you still came out to see it," the musician joked, adding, "I guess after tonight we've all got to get real jobs."
The "One More Night" singer was joined on stage by keyboardist Tony Banks, guitarist Mike Rutherford, guitarist and bassist Daryl Stuermer, percussionist and back-up vocalist Daniel Pearce as well as back-up vocalist and tambourine player Patrick Smyth. Phil's 20-year-old son, Nic played the drums.
The tour was postponed during the pandemic but finally went on in the U.K. in September 2021 and in North America last fall with final stops in Europe and the U.K.
Collins has suffered from several health issues in the recent years including nerve damage in his hands in 2007. In 2009, he announced he can no longer play drums due to a spinal injury.
"My vertebrae have been crushing my spinal cord because of the position I drum in. It comes from years of playing. I can't even hold the sticks properly without it being painful; I even used to tape the sticks to my hands to get through," he said.
In September 2021, Collins admitted his frustration at not being able to play drums the way he used to and said he had turned over the drumming duties to his son, describing himself as "kind of physically challenged."
"I can barely hold a stick with this hand," he added.
Genesis was formed in 1967 and sold over 100 million records for their hits including "Home By the Sea," "Second Home By the Sea" and "Fading Lights."
Meanwhile, the singer's daughter and "Emily In Paris" star, Lily, shared an Instagram tribute, uploading a gallery of photos showing her backstage and videos of the band's final concert.
"Tonite marks the end of an era," Lily, 33, wrote.
"To have witnessed this last show was truly the memory of a lifetime and an event I shall hold in my heart forever. Endlessly grateful doesn't begin to do it justice," she continued.
"So much love was left on that O2 stage and an even bigger amount shared between an audience who didn't want it to end."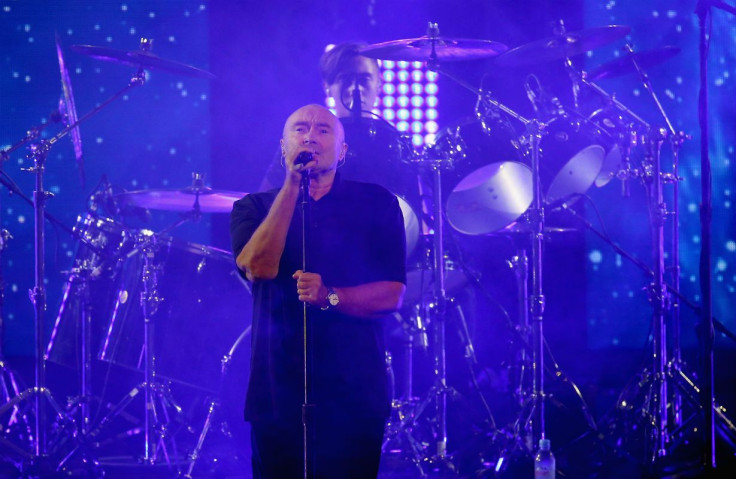 © Copyright IBTimes 2023. All rights reserved.