Philippines Government Criticized For 'Whitewashing' Poverty During Pope's Visit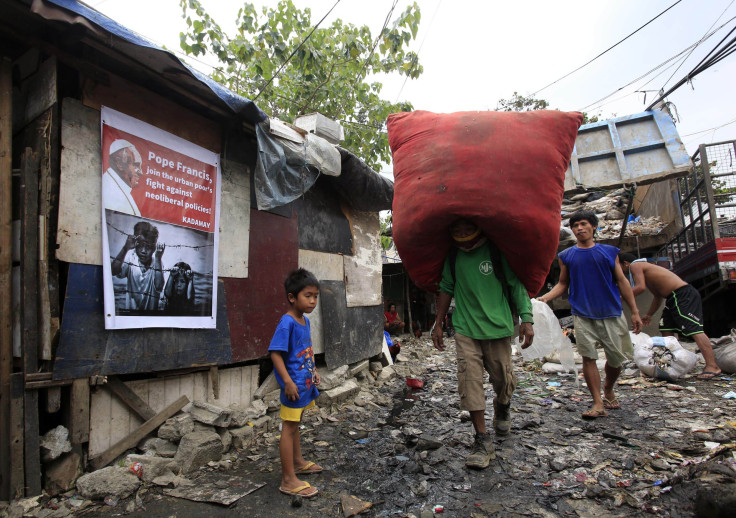 The Philippines government has come under fire after a senior official revealed on Friday that nearly 500 beggars and homeless people were taken off the streets in Manila during Pope Francis' recent visit, according to media reports. A record six million people had turned up on the city's streets during a mass held by the pope on Sunday -- the final day of his five-day trip to the country.
Corazon Soliman, secretary of the social welfare department in the Philippines government, reportedly admitted on Friday that during the papal visit, 490 beggars were removed from the streets and housed in an air-conditioned resort near Manila. However, she added that this was only done to ensure that the families living on the streets would "not be vulnerable to the influx of people coming to witness the Pope."
"The destitute could be seen as not having a positive influence in the crowd and could be used by people who do not have good intentions," she said, according to a report by TIME magazine.
However, the revelation was met with sharp criticism from opposition parties as well as several human rights groups, which alleged that the government was "whitewashing poverty."
"The pope would have wanted to see the Philippines, warts and all. Let us not pretend that we are a first-world country," Terry Ridon, a member of the Philippines' House of Representatives, reportedly said. He also said that an inquiry should be initiated to investigate reports that street children had been locked up in detention centers to "sanitize" Manila's streets during the pope's visit, according to a report by the Philippine Star.
"In an effort to look good while under the international limelight, the government just swept the problems it cannot solve under the rug," Ridon reportedly added.
More than 18 million people are believed to be living below the international poverty line -- based on a minimum daily income of $1.25 -- in the Philippines, many of whom are living on the city's streets, according to a recent report by USAID. During his trip to the impoverished nation, the pope had also urged the country's leaders to work toward eradicating poverty and inequality in the country.
"We need to care for our young people, not allowing them to be robbed of hope and condemned to a life on the streets," the pope said.
© Copyright IBTimes 2023. All rights reserved.