Phoenix Shooting Leaves 5 Dead, Neo-Nazi Jason Ready Identified As Killer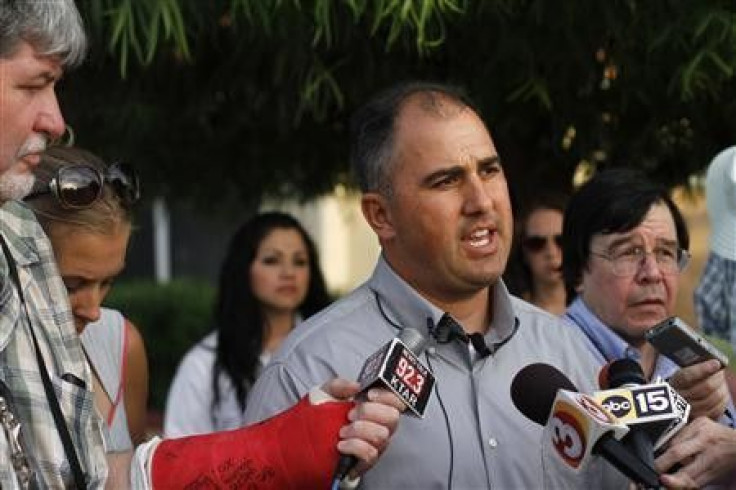 Police have identified known Neo-Nazi 'Jason JT' Ready as the man who killed four people, including a toddler, and then committed suicide. Ready had been campaigning for the position of county sheriff in Gilbert, Arizona near Phoenix, where the murders took place, according to AZFamily.com.
Law enforcement officials say that Ready, who was a former member of the National Socialist movement, was responsible for the deaths, which rocked the affluent suburb this week.
The shooting occurred at around 1 p.m. on Wednesday and a team of paramedics and police officers arrived soon afterwards once neighbors reported hearing multiple shots fired.
Police said the two men were found dead inside while the two women were murdered inside the house.
Though the Gilbert county police have yet to confirm specific details, it is believed JT Ready, 39, shot and killed his 47-year old girlfriend, Lisa Mederos, her daughter Amber Mederos (22 years old), Ambers 22-year old boyfriend Jim, and Amber's 2-year old daughter Lilly. The little girl was found alive at the property but died in a hospital soon afterwards.
'There were signs of life, that's why we transported her,' said Sgt Bill Balafas, according to the Daily Mail.
Investigation was slowed by concerns that several 55-gallon drums in the backyard might contain hazardous materials, according to Fox News.
Though Ready has been confirmed as dead, it is still unclear that he turned the gun on himself after murdering his girlfriend and her family.
'There were a few weapons in the house and we don't know if there was a gun battle or if it was a murder-suicide,' said Sgt. Bill Balafas of Gilbert Police.
Police also told the press that there were reports of domestic violence between Ready and Mederos earlier on the day of the shooting, and revealed that Mederos' 19-year-old daughter was luckily not at home at the time of the shootings and is being interviewed by the police.
Sgt. Balafas noted that there were several witnesses to the killings who are currently being interviewed.
This is a domestic situation. We do have witnesses that our investigators are interviewing.
Gary Davis, who witnessed the police and medical response to the killings expressed complete disbelief at the violence that had rocked his idyllic city.
Nothing ever happens in this neighborhood, he said according to the Daily Mail. It's a shock to us.
Gilbert was named the safest city In Arizona and one of the safest in the U.S. by CQ.
Ready is a former Marine and the founder of prominent, Arizona based extremist organization Americans First, who patrolled the border wearing military fatigues and body armor while carrying assault rifles
In a widely distributed video he stated I firmly believe in having a minefield across the border. This is 100 percent effective.
In the past, Ready spoke at National Socialist Movement rallies in Omaha, where he railed against lax border protection. The former military serviceman had recently set up a U.S. Border Guard militia group that routinely patrolled the southern Arizona desert looking for illegal immigrants. In January he announced that he would run as a Democratic candidate for Pinal County Sheriff.
Around Arizona and it's growing Neo-Nazi scene, Ready was known as a man who was not afraid to take matters into his own hands, and his presence reportedly made local law enforcement officials nervous.
Ready believed that the only American citizens should be white, non-Jewish and heterosexual, that all non-whites should leave the country, and that a violent revolution was the only path to this goal.
We're not going to sit around and wait for the government anymore, said Ready in an interview with the Associated Press in 2010. This is what our founding fathers did.
Ready was court-martialed twice and discharged from the Marines for bad-conduct, conspiracy and assault in 1996.
In 2004 he entered the political realm and ran for a seat in the Arizona House of Representatives.
During his first campaign he reportedly told a reporter that Arizona could improve its education, if it would 'deal with this mass illegal influx of foreign students, who do not even embrace the same language and culture as Americans and who spread tuberculosis, whooping cough, lice, and other third-world biological diseases to other children.
He lost the election.
In 2006 he opened fire on a Latino Man with a BB gun while campaigning for the Mesa City Council. That same year he created Americans First and marched on the Mexican consulate in Phoenix.
We are advocating that the government of Mexico should be designated a 'threat nation' because they are openly subverting our laws and sovereignty, he said to the press at the time.
© Copyright IBTimes 2023. All rights reserved.
FOLLOW MORE IBT NEWS ON THE BELOW CHANNELS