'Pineapple Express' Storm Moves South Down US West Coast; At Least 2 Dead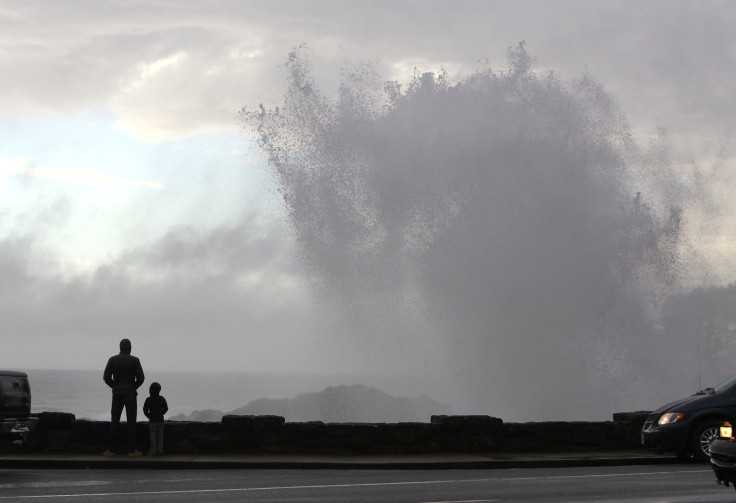 Update as of 6:27 a.m. EST: At least two people have been killed by a massive storm system that's making its way down the West Coast since Thursday, USA Today reported. Over 4.5 inches of rain fell in California's Big Sur area in only three hours, the report said, citing the National Weather Service. The storm is one of the worst to hit the West Coast, the report added.
The National Weather Service said late Thursday that a powerful storm and heavy rains that devastated Oregon and the San Francisco Bay area has moved south, bringing rain to parts of the San Fernando Valley late Thursday night. The massive storm that hit Northern California Thursday has left more than 220,000 people along the coast without power.
The strong storm also forced the closure of several schools and offices in the Bay Area, including San Francisco, Oakland and Berkeley, according to reports. Authorities reportedly expect the storm to drench Southern California until early Friday with heavy rainfall and isolated thunderstorms. Coastal areas around Los Angeles could reportedly receive heavy rainfall of up to 2 inches, while the region's mountains could get up to 4 inches of rain. The storm threat has reportedly prompted both mandatory and voluntary evacuation orders in several areas. Flash-flood watches were reportedly triggered through Friday evening for burn areas in Los Angeles, Orange County and Ventura County, reports said.
"If conditions become too unsafe to evacuate, move to the highest safe place inside of your residence and shelter in place," the police department of Glendora in Los Angeles County said on its Facebook page.
Heavy rains and strong wind gusts slammed Northern California on Thursday leaving more than 220,000 people without power. Residents in areas ranging from Humboldt, near the Oregon border, to suburbs south of San Francisco were reportedly the most affected due to the power cuts, BBC reported. In San Francisco, flooding from the "Pineapple Express" reportedly forced the closure of two major roadways in the area and more than 240 flights were cancelled Thursday, while others were reportedly delayed for over two hours.
Thursday night's storm also reportedly resulted in a massive fire after a tree fell on a propane tank in the Red Wind Casino in Lacey, Washington, local media reports said. In Sonoma County, authorities reportedly urged hundreds of people to evacuate the lowest lying areas near the Russian River, which was expected to overflow overnight. Sonoma County spokeswoman Christin Williams recommended nearly 300 homes in the area to evacuate, according to a local media.
© Copyright IBTimes 2023. All rights reserved.