Bay Area Storm 'Pineapple Express' Pictures: Will California's 'Hella Storm' Help Drought? [PHOTOS]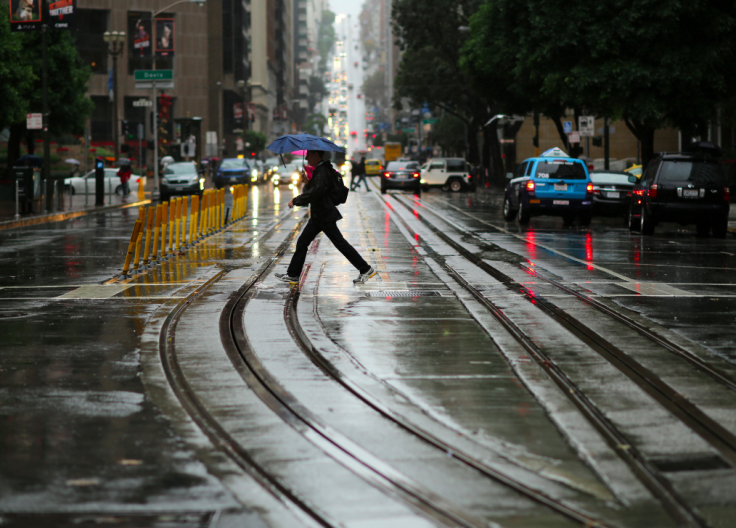 The massive storm soaking California is being referred to by many names on Twitter. While some have called it Pineapple Express -- its "given name"-- others have picked monikers like "Bay Area Storm" and "Hella Storm" to discuss the inclement weather.
Tens of thousands are without power as Northern California battles its harshest storm in years, the Associated Press wrote. But some risk-takers are making the most of Pineapple Express and have decided to ride it out. Surfers zipped up their wet suits and readied their boards.
Since driving wasn't an option for some people, they opted for alternative methods to get around:
Part of what has made the storm so severe is the mix of rain and wind. "It's a two-pronged punch -- it's wind and rain. Once the ground gets saturated and the winds are howling, there's a bigger chance of trees going down on power lines,'' National Weather Service forecaster Diana Henderson said, according to Associated Press.
Even though the weather has been fierce, there haven't been any reported injuries, ABC News said.
Not everyone is worried about the storm though. "I know it's a big storm supposedly, but they're treating it like it's a hurricane,'' Malcolm Oubre, who works as an administrative assistant in San Francisco, said, according to the AP. It's just "lots of rain, lots of wind.''
Just because the state has experienced a lot of rain doesn't mean the drought is over. "Thursday it'll rain, and people will say, 'Oh, I'm very excited,' and Saturday it'll rain, and 'Oh, drought's over.' Not even close," Jeffrey Mount, a senior fellow with Public Policy Institute of California focused on water told KQED. "This has been three consecutive years of extreme dryness, and that extreme dryness translates to much lower groundwater levels, and very dry soils. It's going to take a lot of rain to break this drought."
But Mother Jones noted the rain will help. Two of California's largest water reservoirs increased 3 percent.
The storm has become a trending topic on Twitter. Both #BayAreaStorm and #HellaStorm were top-trending topics on the social media site Thursday. Some pictures people posted with those tags have been posted below:
Follow me on Twitter @mariamzzarella
© Copyright IBTimes 2023. All rights reserved.
FOLLOW MORE IBT NEWS ON THE BELOW CHANNELS