Pinterest International Boss Talks Expansion In Europe, App Partnership With Apple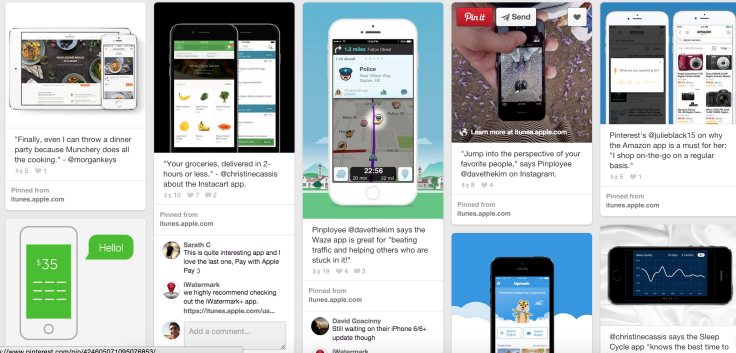 SAN FRANCISCO -- One of Pinterest's top goals for 2015 will be to grow its user base around the world, with a primary focus on Europe. This year, the bookmarking and discovery startup will be opening offices in Spain, Italy, the Netherlands and Sweden, Matt Crystal, Pinterest's head of international business, told International Business Times in an interview Friday.
Those additions will bring Pinterest's global presence to nine countries, adding to its existing offices in the United Kingdom, France, Germany, Japan and Brazil. "The world is our priority, but in terms of sequencing, this year we're focused on Europe," Crystal said.
In the U.S., Pinterest has matured to the point where the startup last year introduced advertisements in the form of "Promoted Pins," which became available for purchase to all U.S.-based brands last month. The goal is to get international usage to the same level, and already, Pinterest is off to a good start.
Last year, the service became available in 31 languages, up from less than 10 in 2013. Of the company's 70 million monthly active users, about one third are based outside the United States, and Pinterest's international user growth rate is now higher than in the United States.
By building density within Europe, Pinterest will be able to see and analyze usage patterns among its international base. Europe also offers many potential partners whose presence spans across the entire continent, Crystal said.
Aside from global expansion, Crystal also touched on Pinterest's partnership with Apple that was announced this week. Now as iPhone and iPad Pinterest users surf the service they'll be able to see "app pins," which are pins that can be opened to download mobile apps direct Apple's App Store. Users will come across app pins when they are posted by those they follow or when an app pin comes up as a result when they use Pinterest's search feature.
"App stores are very crowded places and there are literally millions of apps that are often hard to find. What Pinterest is really great at is discovery and helping people to find things that map to their interests," Crystal said.
One of the top complaints about the Apple App Store is that it's not very good for finding new apps. Apple is fixing that problem by making its catalog of apps available for discovery through Pinterest. The partnership also comes cheap for Apple; Crystal said his company will not be making any money on paid apps that are downloaded after being discovered on Pinterest. But make no mistake, Pinterest is benefiting quite a bit by adding Apple's vast library of apps to its service.
Pinterest's users go to there to discover things they've never seen, such as recipes, clothing, furniture or travel destinations. That makes Pinterest somewhat of a competitor to Google, and by adding apps to its catalog of content, the company is giving users more reason to use the service.
"What we're doing is providing a discovery experience that leads people to all sorts of interesting places," Crystal said. "In this case the destination just happens to be an app store."
© Copyright IBTimes 2023. All rights reserved.