Pinterest: New Photo Sharing Service Gains Popularity as Facebook Files IPO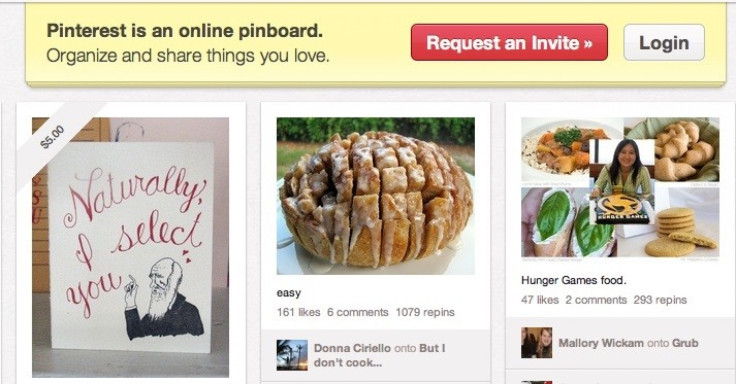 We all know that social media allows one to share their words on the Web in a matter of seconds. Networking giants Facebook and Twitter are known to be front runners in that field, but a relatively new Internet craze may be a worthy competitor.
Pinterest, founded in March 2010 and self-described as an online pinboard, has earned a spot in the top 25 most visited websites in the United States according to Web information company Alexa.com. But perhaps the social aspect is the key to the online photo sharing website's success.
Pinterest allows users to interact and express themselves in a different way than social phenomenon Facebook, who just filed for IPO. Members can upload any photos they desire and invite other users to comment on them.
Sounds familiar right? Wrong. Pinterest focuses more on the subject matter than the actual user. Even without creating an account (which is referred to as requesting an invite) one can view the latest posts on the homepage.
Cluttered with fashion photos, home décor ideas, and tasty recipes, it's no surprise this image sharing service is catching on among the female crowd. The Daily Texan reported that the site receives the most traffic from women under the age of 35.
But it seems this idea of digital- scrap booking is trending among the masses as well. According to Shareaholic's traffic report for last month, Pinterest beat out Web household names such as YouTube, Reddit and Google Plus in terms of referral traffic during Dec. and Jan.
To accept Pinterest's invitation to organize and share the things you love, visit www.pinterest.com.
© Copyright IBTimes 2023. All rights reserved.