PIQ Sport Intelligence, Everlast Team Up To Bring Artificial Intelligence To Boxing
Boxing is one of the oldest sports known to man. At CES 2017, it got a high-tech makeover with the help of French startup and one of the most well-known names in boxing.
PIQ Sport Intelligence, a fresh-faced wearables maker based in Paris, and Everlast, a global maker of boxing and mixed martial arts equipment, announced on Thursday that they would be entering into a partnership to develop the first artificial intelligence wearable device designed to specifically for boxers to help analyze their performance.
According to the companies, the device will make use of the PIQ Robot, a tiny and waterproof wearable sensor that tracks user activity. The sensor will take note of the strength and speed of each punch, captured by a motion-capture algorithm technology fine-tuned to track boxing motions, and outputs information about their performance in real-time.
Piq attributes the capabilities of the sensor to a multi-algorithmic, machine-learning intelligence it built using both fundamental and applied research. According to the company, the technology is capable of understanding and analyzing even microscopic vibrations that occur in boxing movements.
The sensor spits out all of its recorded information via a connected smartphone app and runs the data through GAIA, which PIQ claims is the first artificial intelligence system that autonomously understands and analyzes sports movement.
Once the AI gets its mitts on the data, it generates what it calls "winning factors"—the areas the boxers performed best at and would want to maximize in order to win.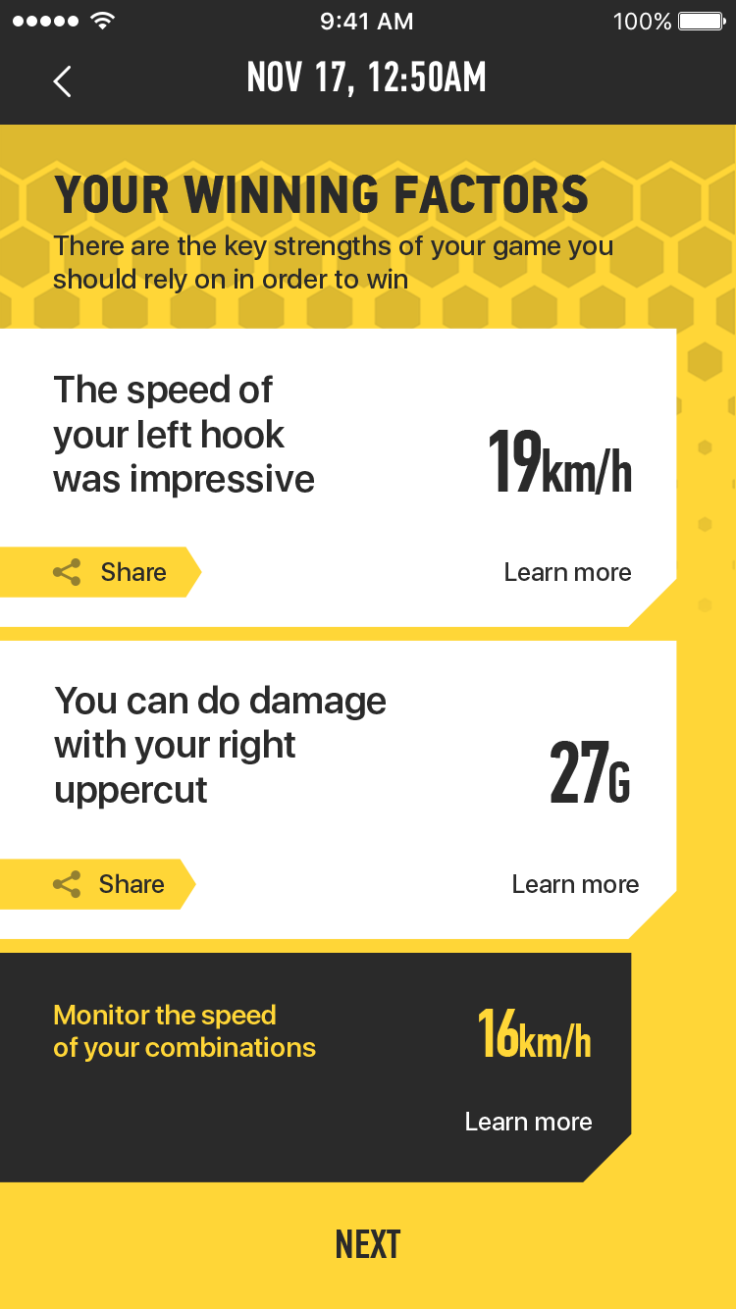 "Athletes in other sports have been using data to train smarter for years" Chris Zoller, director of marketing and design for Everlast, said in a statement. "We're excited to work with PIQ to bring wearable technology to the sport of boxing. The PIQ platform has the ability to provide true measurable training insight, something we feel will help boxers perform their best."
Boxers who adopt the wearable technology will be able to track their progress across multiple facets of the sport, including shadow boxing, sparring, bag and mitt training.
Users will then be able to move out of the gym and into the virtual ring, comparing their abilities to boxers around the world who put on the wearable. PIQ noted the possibility of a community built around the data collected from the wearable, with best punches and top scores posted from around the world. Boxers would be able to compare and compete with friends and other enthusiasts to see how they stack up, punch for punch, without ever touching gloves.
The device from Everlast and PIQ is available for pre-order online and will start appearing in boxing specialty shops across the U.S. in February of this year.
© Copyright IBTimes 2023. All rights reserved.
FOLLOW MORE IBT NEWS ON THE BELOW CHANNELS