Plum Organics Recall 2013 Update: Parents Upset Over Baby Food Recall After Spoilage Defect Causes Illness
Plum Organics' decision to voluntarily recall three of their baby food products for spoilage has resulted in an angry torrent of comments from concerned parents on social media. According to multiple customers, the recall, which was reportedly caused by a manufacturing error in specific lots of Plum Organics' Baby Stage 2, Tots Mish Mash and Kids line products, has resulted in various illnesses among some of their children.
In response to a public apology posted on the Plum Organics official Facebook page last Friday, commenters have released a continuous stream of concerns, complaints and accusations. "Plum - please stop posting the exact same post 'we truly apologize...' over and over again. Instead please provide us concerned parents with some real answers," said Clair Robinson in one of the top-rated customer comments on the company's statement.
Most parents commenting on the Plum Organics apology post have reported that their children fell ill after consuming one or more of the recalled products prior to or following the recall announcement. The most common complaints are of stomach bugs, fever, vomiting, diarrhea and gas pains -- one parent even claiming that her child's illness required a trip to emergency care.
"This recall is proving to be quite expensive and stressful for our family!!," said Erin Elizabeth, who posted about her son's nine-day spout of diarrhea following the consumption of a recalled product and her need to purchase probiotics to sooth the ailment. "My child has eaten a ton of these products and I'm beyond livid," Erin Green posted Friday. "What symptoms would eating the garbage cause? How irresponsible of you, Plum Organics. You're no better than the companies you claim to be better than." "Now I am beyond angry," said Lara Christina Campbell, adding, "I thought the vomiting and diarrhea was the result of day care cooties, which I can accept, but defective products I will not."
While Plum Organics has offered to refund affected customers for the defective products, parents are saying that's not enough. "You'll get nothing specific out of them; their lawyers won't allow it, I am sure," posted customer Joe Avcin, who said he will no longer purchase the organic company's baby food products. "My daughter eats two pouches a day and has been refusing to eat the past few days. Now I know why," said customer Nicole DeSantis Monday. "Medical bills cost way more than a $2 pouch," added customer Gin Ashen.
Some parents, however, praised the organic baby food company for issuing the recall. "My little guy did get a little bit of a tummy ache. But we have all eaten spoiled food in our lifetime," said Steven and Kimberly Venzia Wednesday, adding, "He loves these pouches and I will not stop using them [because] of one problem." Customer Stephanie Violet Clark shared a similar sentiment Saturday, saying, "Even momma makes bad food sometimes. Thanks for being honest, Plum!"
Plum Organics, alongside the FDA, first announced a recall for specific lots of three of their baby food products Friday. "We started this company with the mission of providing the very best food to little ones from the very first bite. Because of this unwavering commitment to that mission, I'm writing to inform you that we are conducting a voluntary recall," said co-founder and President Neil Grimmer in a press release. Plum Organics products that contain the letters "AT" and the "Best By" dates of Aug. 5, 2014, to Dec. 8, 2014, are currently the only products included in the recall.
According to a Plum Organics spokesperson posting on Facebook, the company is currently working with the FDA to identify the manufacturing issue that caused the potential spoilage. For more information, contact Plum Organics at: 866-495-3774 or e-mail: info@plumorganics.com.
Plum Organics 2013 Recall: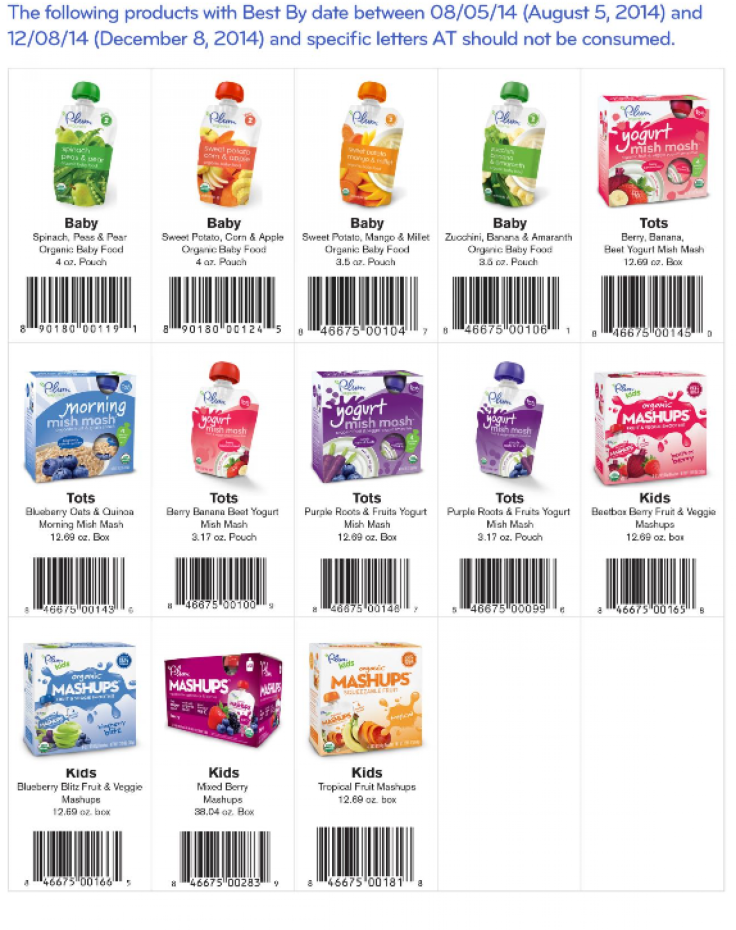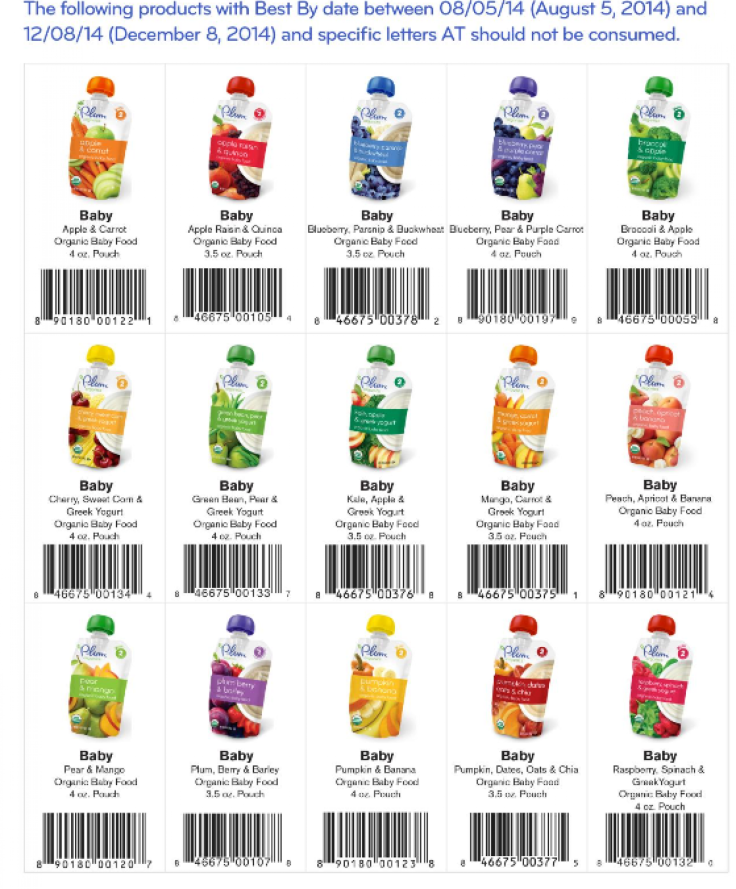 © Copyright IBTimes 2023. All rights reserved.
FOLLOW MORE IBT NEWS ON THE BELOW CHANNELS