'Pokémon Sun And Moon' For Nintendo 3DS: Release Date, Gameplay And Trailers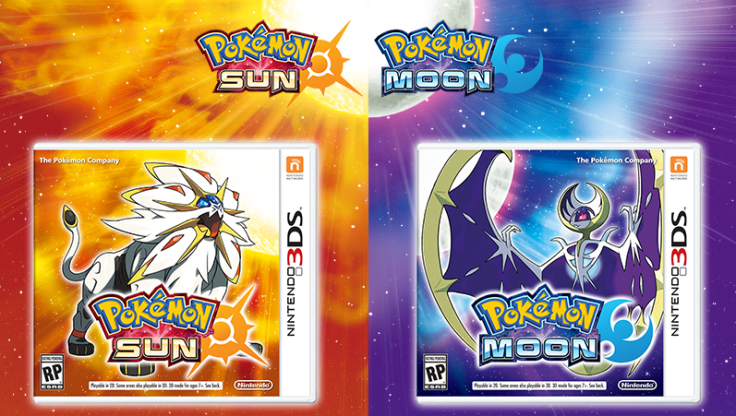 Nintendo announced Pokémon Sun and Pokémon Moon during its February Nintendo Direct presentation.
Pokémon Sun and Pokémon Moon offers traditional and simplified Chinese as language options, which is a first for the popular series. Pokemon Sun Moon will also come with Pokémon Bank support, which allows players to move Pokémon wirelessly from Pokémon Red, Blue and Yellow, as well as Omega Ruby, Alpha Sapphire, X, and Y a nd Sun and Moon .
"The Pokémon core series games are the center of the Pokémon universe and provide some of the most memorable Pokemon moments for our fans," Pokémon Company marketing director J.C. Smith said in a statement. "I can't wait to see what fans think of the new adventures they'll find in Pokémon Sun and Pokémon Moon ."
Pokémon Sun and Pokémon Moon Leak Reveals Specific Monsters
Pokémon Sun and Moon's version-exclusive Pokémon has leaked ahead of the game's release. Pokémon Sun will be getting the Fighting Passimian, the Fire-Dragon Turtonator, Solgaleo, UB-02 Absorption and the Alolan variants of Vulpix and Ninetails.
Pokémon Moon players will get to enjoy the Psychic Oranguru, the Chinese dragon Drama, Sandshrew and Sandslash's Alolan forms, UB-O2 Beauty, Lycanroc's Midnight form and popular critter Lunala.
Newest Pokémon Sun/Moon Creature Can Change Types
The Pokémon Company released a new trailer for Pokémon Sun and Moon , which reveals new creatures including Silvally and Kommo-o, which is an evolved form of Jangmo-o. One of Silvally's unique abilities is called RKS System. This allows it to change its type, making attacks way more effective against creatures that would usually be barely affected.
Pokémon Sun and Pokémon Moon launches Nov. 18 for 3DS
The newest Pokémon games, Pokémon Sun Moon , are coming out Friday, Nov. 18. Nintendo is expecting strong sales for the 3DS game, which it's now been reported the company has shipped more than 10 million copies of the game to retailers for launch day. That's 1.5 times bigger than the launch shipments or Pokémon X and Y, according to Famitsu.
Pokémon Sun Moon are the first Pokémon games to come out since
Pokémon Go's release in July
. Strong sales for Pokémon Sun Moon are expected, but that's no surprise, since the game also set a preorder record for Nintendo, which received 3.5 million downloads in its first week.
Watch the Pokémon Sun and Moon - A World Beyond Trailer
Watch the Pokémon Sun and Moon - Final Evolutions of the Starter Pokémon Trailer
© Copyright IBTimes 2023. All rights reserved.
FOLLOW MORE IBT NEWS ON THE BELOW CHANNELS