Policeman Shoots, Kills Neighbor's Dog For Attacking Sister After Entering His Property
An off-duty police officer shot and killed his neighbor's dog for attacking his sister after running into his property in Cary, North Carolina, on Wednesday.
Shortly before 7 a.m. EDT Wednesday, an off-duty officer heard his sister scream at their residence in 1700 block of McLaurin Lane, Cary, North Carolina, and went to check only to find a dog attacking her. He shot and killed the pit bull mix after it wandered onto the former's property. The woman and her leashed dog sustained injuries and were treated for the same at the scene by emergency medical services.
The Fuquay-Varina police were assisted by Wake County Animal Control for the investigation. The police department acknowledged that it's unlawful for an animal to run unleashed off the owner's property. Cary police department was also informed about the incident. The investigation was underway and it was unclear if any charges were filed in connection with the case.
"Any animal not on the real property or premises of the owner's residence shall be required to be restrained by the owner using a leash and maintaining control of the animal while off the real property or premises of the owner," the Fuquay-Varina Town Ordinance states.
In a similar incident in the Las Vegas Valley, a deputy U.S. Marshall shot and killed a pit bull that was attacking his neighbor early Wednesday morning. The deputy heard his neighbor scream at around 6.30 a.m. local time (9.30 a.m. EDT) and found a pit bull "viciously" attacking the woman. He shot the dog twice to immobilize it. Los Angeles police were informed and the department called an ambulance for the lady who was treated at the hospital for multiple bites.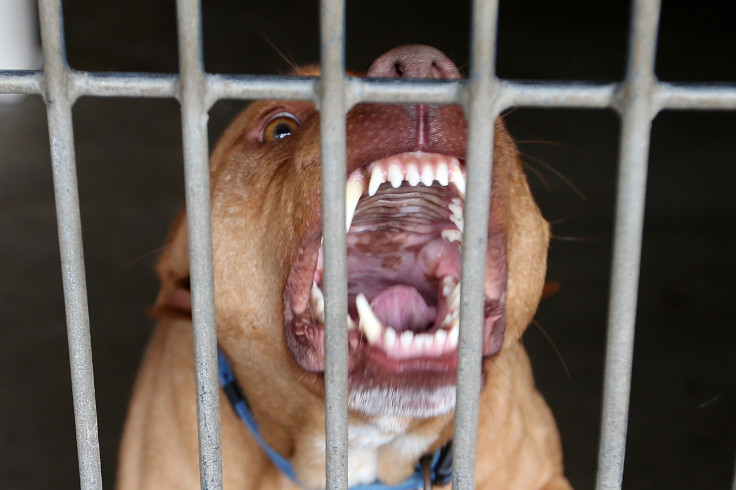 FOLLOW MORE IBT NEWS ON THE BELOW CHANNELS