Alex Gibney's Netflix Documentary Series Includes New Evidence In Volkswagen Cheating Scandal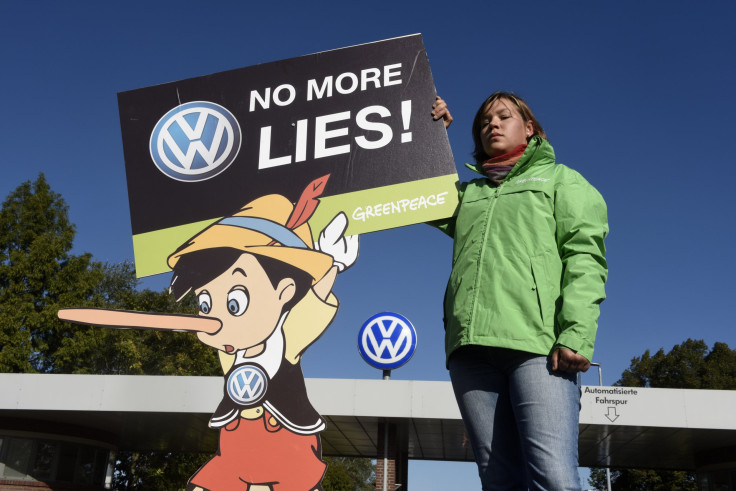 Volkswagen's top executives were aware of the company's emissions cheating scandal and the company's attempt to cover it up in ways that have not been previously reported, according to a new Netflix series from acclaimed documentarian Alex Gibney.
The first episode of "Dirty Money," a six-part investigative series debuting on the streaming service Jan. 26, contains new evidence that the German automaker's executives knew more than previously reported about the installation of "defeat devices" in their diesel cars. Those devices allowed the company to cheat and pass emissions tests despite selling vehicles that emitted up to 40 times the legal amount of air pollution.
Gibney, the series' executive producer and the director of the first episode which focuses on Volkwagon, presents emails that he alleges show Volkswagen Group of America CEO Michael Horn lied under oath to Congress when he told lawmakers the scandal was the product of a "couple of software engineers," and that VW performed a recall to make the defeat devices more sophisticated. The investigative series also details a rigged study VW tried to orchestrate with American researchers that involved forcing laboratory monkeys to inhale auto exhaust.
The emissions cheating scandal, first revealed in 2015, prompted a federal investigation that resulted in the company pleading guilty to three felonies related to fraud and obstruction of justice. VW also has agreed to pay more than $20 billion in settlements and fines. Eight current and former VW executives have been criminally charged in the scandal, including Oliver Schmidt, a German citizen and VW executive captured in Miami in January 2017 and sentenced to a seven-year prison term last month. Schmidt had overseen the company's Michigan-based environmental and engineering department.
But Horn, a longtime VW employee who led the company's North American operations for two years before departing in 2016, escaped charges, despite appearing to lie to Congress. Horn appeared before a Congressional committee in 2015 as the scandal was unfolding. Under oath, he told lawmakers that the decision to cheat was, "not a corporate decision from my point of view, to my best knowledge today, the corporation in no board meeting, or no supervisor report meeting had authorized this.
"At that point in time I had no understanding of what a defeat device was and I had no indication whatsoever that a defeat device could have been in our cars. This was a couple of software engineers who put this in for whatever reasons," Horn said.
But despite his statements to Congress, Horn knew about the defeat devices, according to Gibney, who obtained internal VW emails for the documentary series. Eighteen months before he testified to Congress, Horn received an email from Schmidt that explained the defeat device and the risks it posed to the company.
Over nearly a decade, VW installed those secret defeat devices in more than a half million diesel vehicles sold in the U.S. The devices detected when a vehicle was being run in a laboratory setting, where emissions tests are conducted. In that setting, the cars polluted at much lower rates than they did when driven on U.S. roads.
The documentary also addresses what New York Attorney General Eric Schneiderman calls "phony recalls" in an on-camera interview — recalls meant to address problems with the cars but in fact were used to make the cheat device more sophisticated.
The documentary shows Stuart Johnson, an American VW employee who served as Schmidt's second-in-command, admitting during a deposition that the company updated its software to "further its cheat."
Volkswagen installed the secret technology in order to market and sell "clean diesel" vehicles, cars the company said were environmentally friendly but were in fact polluting at far greater rates than other vehicles on the road. Since the Volkswagen scandal broke, several other automakers have been implicated in similar emissions cheating efforts. Last year, German newspaper Der Speigel published a report showing how German automakers, including Volkswagen, Audi, BMW, Porsche, and Daimler, established a cartel in the 1990s to secretly work together on emissions standards.
© Copyright IBTimes 2023. All rights reserved.
FOLLOW MORE IBT NEWS ON THE BELOW CHANNELS