Hillary Clinton Endorsed By Congressional Black Caucus's Corporate-Backed Political Arm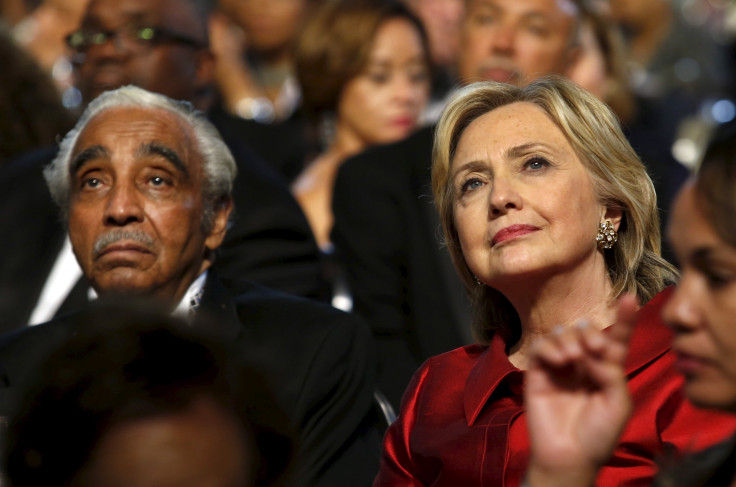 The political action committee of the Congressional Black Caucus announced its endorsement of Hillary Clinton on Thursday, giving the former secretary of state a potential boost in her bid to win over the African-American electorate in South Carolina and other coming primary states. The endorsement, however, quickly became a flashpoint, as one prominent congressman alleged that the group's leadership did not consult fellow caucus members about the decision.
Rep. Keith Ellison, D-Minn., who has endorsed Vermont Sen. Bernie Sanders, noted that the Congressional Black Caucus itself has not issued a presidential endorsement, and asserted that the CBC's separate PAC "endorsed without input from CBC membership, including me." As documented by the Intercept and the Street, Clinton has secured wide backing from Washington-based political groups who do not permit their rank-and-file membership to vote on presidential endorsements, while Sanders has secured the backing of groups that do allow members to vote.
In recent years, the 46-member Congressional Black Caucus has become a force within the Democratic Party, with key members working to undermine President Barack Obama's Wall Street regulations, which Clinton has said she supports. In a 2014 report, the Huffington Post reported that some of the group's lawmakers "pushed for a host of seemingly arcane measures that would undermine Dodd-Frank's rules on financial derivatives, the complex contracts at the heart of the 2008 meltdown." The Intercept reported that some of the group's members played a key role in pushing legislation attempting to prevent the Consumer Financial Protection Bureau from "crack[ing] down on racial discrimination in auto lending that costs individual African-American and Hispanic consumers hundreds of dollars."
According to data compiled by the nonpartisan Center for Responsive Politics, the CBC PAC that is endorsing Clinton is financed in part by contributions from political action committees linked to a host of major corporations with business before the next presidential administration.
During the last two election cycles, the group received donations from pharmaceutical giants Pfizer, Eli Lilly, Merck and Amgen; consumer goods companies Coca-Cola, Pepsi and Walmart; and Wall Street banks and trade groups including the Mortgage Bankers Association, Citigroup, Goldman Sachs and UBS — the latter a Clinton Foundation donor that she aided as secretary of state, according to the Wall Street Journal. In 2010, the New York Times reported that "cigarette companies, Internet poker operators, beer brewers and the rent-to-own industry" were among companies that made major contributions to the CBC's separate foundation. The Times said the money was used to fund conventions where "lobbyists and executives who give to caucus charities get to mingle with lawmakers."
Announcing the CBC PAC's endorsement of Clinton, CBC Chairman G.K. Butterfield, D-N.C., derided young voters for supporting Sanders' campaign. "Mrs. Clinton and others are going to challenge the message by suggesting that it is unrealistic to believe that we can accomplish all of the things that Senator Sanders proposes," he said.
Clinton released a statement thanking the CBC PAC for its endorsement. "The CBC PAC knows we need to elect at president who can take on all parts of the job and build on the progress we've made under President Obama — not let it get ripped away."
In advance of the CBC PAC endorsement, Clinton's campaign held a conference call for reporters with black leaders who have endorsed her. They argued that despite Sanders' strong civil rights voting record, his marching for civil rights with Martin Luther King Jr., his arrest for protesting segregation and his long crusade against economic inequality, he has not been an ally of the black community. Rep. Hakeem Jeffries, D-N.Y., said Sanders "has been missing in action on issues that are important to African-Americans."
The criticism came as Sanders met with the Rev. Al Sharpton — who did not endorse anyone — in New York Wednesday and was endorsed by legendary singer and civil rights activist Harry Belafonte.
© Copyright IBTimes 2023. All rights reserved.