New Mexico Pay-To-Play Concerns Lead Representative To Call For Investigation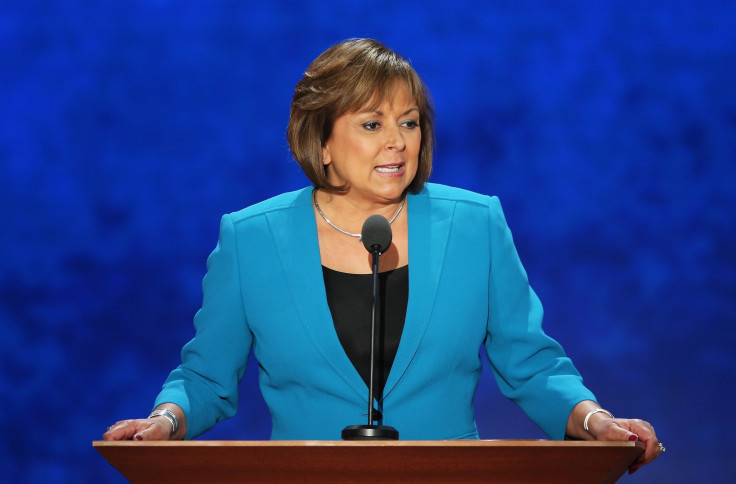 A New Mexico state representative called on the state's attorney general to investigate possible pay-to-play activities at New Mexico investment funds overseen by the governor Wednesday. Rep. Bill McCamley, a Democrat who chairs the New Mexico Finance Authority Oversight Committee, asked Democratic Attorney General Hector Balderas to look into whether political donations from investment firms to Republican Gov. Susana Martinez and groups supporting her election campaigns violated state laws and SEC regulations.
The letter from McCamley to Balderas was written in response to an International Business Times/MapLight investigation that showed Martinez and groups supporting her received more than $1.2 million from investment firms that were handed at least $757 million of public money.
That money came from the New Mexico Educational Retirement Board (NMERB), which manages $12.3 billion worth of pension funds for state educators, and the State Investment Council (SIC), which manages the state's $21.5 billion permanent endowment. The NMERB has two board members appointed by the governor, who is the chair of the SIC.
"I am concerned, especially given that these investments represent hard working New Mexicans' public funds," McCamley wrote. "I urge your office to conduct an investigation into all matters related to any pay-to-play activities of the State Investment Council."
McCamley, who led a hearing on the $300 million in fees paid to managers of public funds earlier this month, asked Balderas to investigate whether political contributions identified by IBT/MapLight's investigation violated a New Mexico law prohibiting a business that provides "financial services involving the investment of public money" from contributing "anything of value" to a "public officer" who has "authority over the investment of public money."
Balderas' office did not immediately respond to requests for comment.
McCamley also called on Balderas to investigate whether contributions from investment advisers to the Republican Governors Association would be a counted as an "affiliated group" of Martinez under state law. While the RGA supports Republican candidates running for governor across the country, investment firms and their executives that won state contracts under Martinez have donated more than $1 million to the RGA, which has been Martinez's single largest contributor. She has also been part of the group's leadership team since she was first elected in 2010, and served as the group's chair from 2015 to 2016.
New Mexico Senate Majority Leader Peter Wirth said on Thursday in a radio interview that New Mexico's ethics laws should be improved.
"I was shocked at this latest article on pay-to-play," Wirth told KTRF's Richard Eeds. "We're going to have to see where this goes. But it seems at this point the contributions were made. And so we've got a whole bunch of contributions. We've got a bunch of money going into a variety of independent expenditure committees, super PACs... It definitely does merit us coming back and continuing what we've been doing and trying to tighten up our laws."
Martinez's office didn't respond to requests for comment for the IBT/MapLight investigation, but spokesman Joseph Cuento told the Santa Fe New Mexican Wednesday that "those quoted in the article clearly state that all financial rules were followed."
"Critically, the governor does not even control the Educational Retirement Board, nor do her two appointees control their investment decisions, as was stated on the record by the [board] representative," Cuento said.
Another unnamed Martinez spokesman told the New Mexican the report was a "shameless attempt to generate clicks online with a story that is short on facts and long on innuendo."
In his letter, McCamley also asked Balderas to investigate whether the deals broke SEC rules, which would only apply to investment firms, not government officials. For example, a 2010 SEC rule implemented in the wake of pay-to-play scandals in several states, including New Mexico, mandates that investment firms cannot receive fees from states for two years after making political donations to public officials with power over state investments.
IBT/MapLight identified multiple donations that may have run afoul of the SEC rule. One example is a donation by private equity firm Enervest to Martinez.
On March 26, 2015, the NMERB's three-member investment committee fund was considering whether to invest in a fund run by Enervest. Meeting minutes show the board was told by staff that the firm had contributed $5,200 to Martinez's campaign the year before, well within the two-year "timeout" period mandated by the 2010 rule.
Despite the disclosure, and the fact the committee was told Enervest had also given $10,000 to a super PAC controlled by Martinez's closest adviser the previous year, the committee voted unanimously to hand Enervest $37.5 million in public money. The NMERB confirmed to IBT that all managers, including Enervest, received fees for their work handling state funds.
The SEC has taken no public action against Enervest. The SEC declined to comment, and Enervest didn't respond to requests for comment. NMERB officials said the board didn't make investment decisions based on political contributions, but noted that the SEC rule didn't apply to pension funds or public officials.
Representatives of the NMERB did tell IBT they would make Enervest aware of the issue.
UPDATE: 4:03 PM EST - This article was updated to include comments by Sen. Wirth.
FOR FREE to continue reading
✔️ Unlock the full content of International Business Times UK for free
offer available for a limited time only
✔️ Easily manage your Newsletters subscriptions and save your favourite articles
✔️ No payment method required
Already have an account?
Log in
© Copyright IBTimes 2023. All rights reserved.