Pope Francis Highlights Simplicity Of Jesus Christ's Birth During Christmas Eve Mass 2015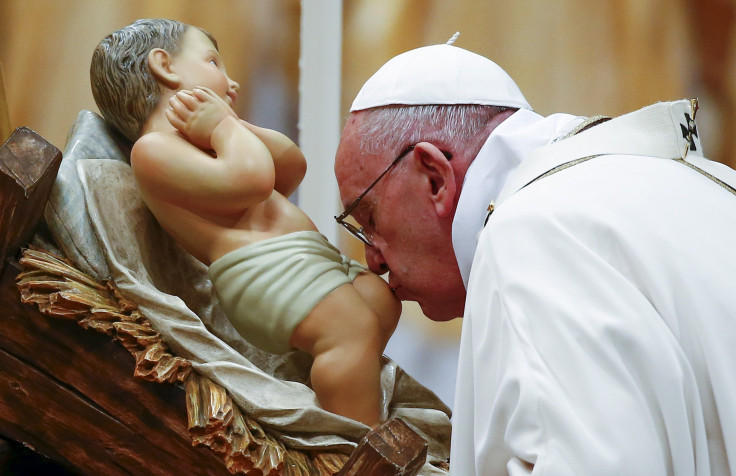 In his Christmas Eve homily Thursday, Pope Francis urged Roman Catholics to remember the humble beginnings of Jesus Christ. During the Mass, which was held in St. Peter's Basilica in Vatican City, the pope said Jesus had a simple birth, comparing it to the excesses of a modern society obsessed with consumerism and wealth.
Jesus, said Francis, was "born into the poverty of this world; there was no room in the inn for him and his family," referring to the Biblical tale of Jesus' birth in a stable in Bethlehem.
"In a society so often intoxicated by consumerism and hedonism, wealth and extravagance, appearances and narcissism, this child calls us to act soberly, in other words, in a way that is simple, balanced, consistent, capable of seeing and doing what is essential," Francis said.
The pope also echoed a call for social justice, a recurring theme since he became pope in 2013.
"In a world which all too often is merciless to the sinner and lenient to the sin, we need to cultivate a strong sense of justice," he said.
Before the liturgy, attendees at St. Peter's Basilica recited "Kalenda," a traditional chant in Latin that recounts the events leading up to the birth of Christ. After the Kalendra, Pope Francis unveiled a small statue representing baby Jesus that was placed in front of the main altar above St. Peter's tomb. He prayed before the statue, which was then greeted with flowers by a group of children from around the world. Each child represented one of the countries, like Kenya, Cuba and the United States, that the pope visited in 2015.
Some 10,000 people attended the service, which was under tighter-than-usual security. Worshippers had to pass through metal detectors to enter the basilica.
© Copyright IBTimes 2022. All rights reserved.
FOLLOW MORE IBT NEWS ON THE BELOW CHANNELS