Pope Francis News: Catholic Church Needs To Be More Welcoming, He Says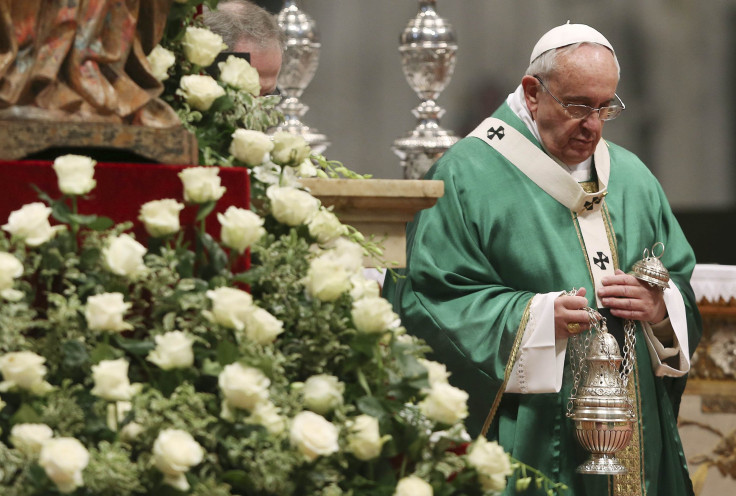 Pope Francis has a message for Italian organized crime groups: Repent, he said, and the Catholic church will welcome you back. The pope spoke to an audience at the Vatican on Saturday, addressing anti-crime activists from the south region of Calabria, home to the 'Ndrangheta, a mafia group in Italy.
"Open your hearts to the Lord. The Lord is waiting for you and the church will welcome you if your willingness to serve good is as clear and public as your choice to serve evil was," he said. He made his comments during a Vatican audience for anti-crime activists and others based in the region of Calabria, home to the 'Ndrangheta, which is essentially mainland Italy's equivalent of the Sicilian Mafia, Reuters reported.
Pope Francis last Sunday challenged fellow leaders of the Roman Catholic Church in a sermon to be open and welcoming to those outside their faith. And the pontiff himself appeared to go a long way toward meeting that challenge in comments made during a Vatican audience Saturday.
"There are two ways of thinking and of having faith: We can fear to lose the saved, and we can want to save the lost," the pope told hundreds of cardinals and bishops in St. Peter's Basilica in Rome, mentioning the story of Jesus healing a leper instead of turning him away.
"Even today, it can happen that we stand at the crossroads of these two ways of thinking," Francis said, addressing the current debate within the church between members who are basically doctrinal legalists and members who favor a more-pastoral approach, the Religion News Service reported.
"Jesus responds immediately to the leper's plea, without waiting to study the situation and all its possible consequences," the pope said. He reminded Catholics many of Jesus' teachings and methods were considered unorthodox at the time.
Francis, 78, was elected pope nearly two years ago. Since succeeding Pope Benedict XVI, he has challenged church leaders to focus less on judging others and more on reaching out to nonmembers in various ways.
© Copyright IBTimes 2023. All rights reserved.
FOLLOW MORE IBT NEWS ON THE BELOW CHANNELS