Pregnant Heather Rae Young, Tarek El Moussa Reveal Sex Of 1st Baby Together
KEY POINTS
Heather Rae and Tarek El Moussa are expecting a baby boy
The couple announced the sex of their first child together via Instagram Sunday night
They had a reveal party with friends and family, including Tarek's children with ex-wife Christina Hall
Heather Rae El Moussa (née Young) and Tarek El Moussa will add a baby boy to their family.
The couple shared the news on Instagram Sunday, less than two weeks after announcing that they are expecting their first child together.
The "Selling Sunset" star, 34, and the "Flip or Flop" alum, 40, both posted a video from a reveal party with family and friends. Footage showed them revealing the sex of their baby on the way by shooting off cannons filled with blue confetti, and then sharing a kiss afterward.
"It's a boy," Tarek said in the video.
Tarek is already a dad of two. He shares two kids, daughter Taylor, 11, and son Brayden, 6, with ex-wife Christina Haack Hall.
Heather and Tarek announced that they were expecting by sharing shots from a beachside maternity shoot on Instagram on July 13.
The couple, who started dating in 2019 and tied the knot in October 2021, told People that it came as a "huge shock" because they were in the middle of in vitro fertilization treatments and had even scheduled a date to transfer an embryo next fall.
"I think when you least expect it and there's no stress in your life, the world just brought us what was meant to be. I'm so excited that it happened like this," Heather told People.
Tarek and Heather said they initially had no plans to have their own child at the start of their relationship, and she felt fulfilled being a "bonus mom" to her "incredible" stepchildren. However, she changed her mind after witnessing how great Tarek was as a dad.
"But as your love grows more and more and you fall deeper in love with someone and you build this life together, I started picturing myself having a child with Tarek," Heather explained. "I started thinking I just wanted to create something with the man that I'm in love with."
Days after their pregnancy announcement, Heather shared snaps with her stepkids and expressed her excitement about their growing family. In separate photos, Brayden and Taylor are all smiles while touching Heather's baby bump, seemingly excited about their upcoming sibling.
"Never in my wildest dreams did I think my heart would be so full from being a step mommy…and now I get to be a mommy, myself," Heather wrote. "The most fun part of it all is how sweet and supportive Tay and Bray have been."
Tarek's children tried to guess the sex of Heather's baby and had so much fun coming up with names, according to the Netflix star.
"And it's so cute, Bray comes up to me every day we have the kids and says, 'How big is your baby today?' And he'll put his ear to my belly and say, 'I can hear the baby' ... My heart!!!!" Heather added.
The couple, who is in the middle of filming their new HGTV docu-series "The Flipping El Moussas," is due early next year.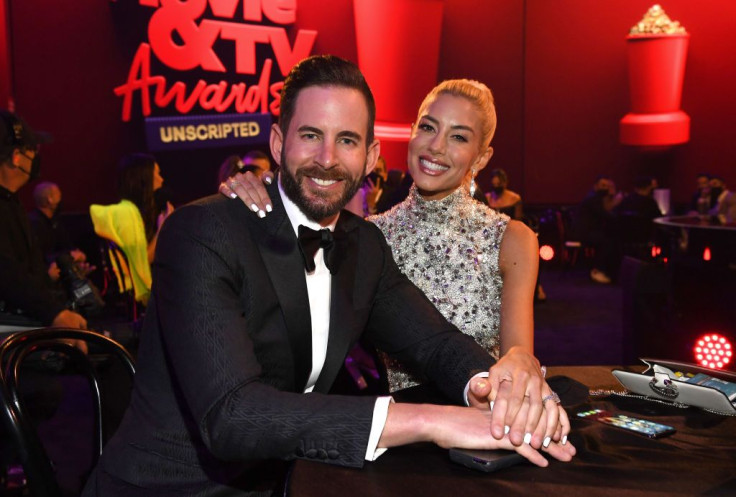 © Copyright IBTimes 2023. All rights reserved.