Tarek El Moussa's Wife Heather Rae Young, Ex-Wife Christina Haack Get In Heated Fight: Report
KEY POINTS
Christina Haack and Heather Rae Young had a heated exchange during a soccer game on Saturday
Tarek El Moussa and Josh Hall also had a nose-to-nose spat that the soccer coach had to intervene
The two couples reunited when Brayden was hospitalized the following day and resolved the issue
Tarek El Moussa and Heather Rae Young were with Christina Haack and Josh Hall over the weekend, and the two couples seemingly had a heated exchange during a soccer game.
Daily Mail shared a snap of El Moussa holding Young's arm and seemingly taking her away from Haack amid their argument at a soccer game in Newport Beach Saturday. The outlet noted that El Moussa also had a spat with Haack's new husband, Hall, that the soccer coach had to separate the two men.
In the snaps, the "Christina on the Coast" star was seated on folding chairs beneath a sun awning while watching her children with El Moussa — Brayden, 6, and Taylor, 11, on the soccer field. She was joined by her husband, parents and some friends. El Moussa and his wife, Young, were also there to support the kids.
The spat allegedly started when the "Selling Sunset" star approached Haack and their discussion took an ugly turn. They allegedly had an exchange of fiery words, and it got so tense that El Moussa decided to pull his wife away from the group.
For most of the day, both couples decided to keep their distance from each other to avoid more disputes. Later that day, El Moussa allegedly had a nose-to-nose spat with Haack's new husband that the coach had to intervene.
Haack's rep told Page Six in a joint statement Tuesday that they had already resolved the issue.
"A personal matter was discussed and has since been resolved. We are focused on co-parenting as a team moving forward," they said.
On Sunday, the two couples reunited after Brayden was hospitalized and had to undergo an emergency appendectomy and removal of Meckel's diverticulum. The operation was successful.
The extended family seemingly ended the dispute the previous day as Haack praised her ex-husband, El Moussa, his new wife, Young, and her new husband, Hall, for their teamwork.
"Stressful 24 hours but a good reminder how important teamwork/co-parenting is," she wrote on her Instagram Story Monday. "We are all under pressure, but when it really matters, we were all there for Brayden doing our part."
She continued, "Sometimes, a scary situation can be a good wake-up call. In the end, all the other stuff is just 'noise'; what matters is the kids."
The mom of three said the surgery went well and Brayden was "recovering and in good spirits."
After Brayden got discharged, Young gave an update by sharing a snap of Brayden while resting on the bed with El Moussa by his side. Brayden's stepmother said that he was in pain but still a strong boy.
"We all pulled together as a family during this stressful time. The kids will always be the main priority to all of us!" she added while tagging Haack and El Moussa. Haack shared Young's post on her Instagram Story.
El Moussa and Haack were previously married from 2009 to 2018. Haack married Anstead in 2018, but they split in 2019 and finalized their divorce in 2021. They share a 3-year-old son, Hudson. Meanwhile, she secretly married Hall after one year of dating.
Meanwhile, Haack's ex-husband and "Flip or Flop" co-star, El Moussa, married Young in 2021. The couple is trying to conceive and has been sharing their IVF journey online.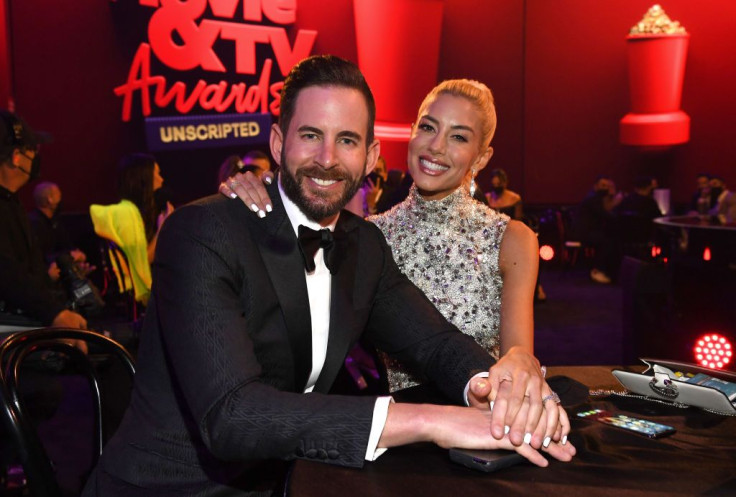 © Copyright IBTimes 2023. All rights reserved.