Tarek And Heather Rae El Moussa Expecting First Baby Together After Sharing Fertility Struggles
KEY POINTS
Tarek and Heather Rae El Moussa said they were in the middle of IVF treatments when they learned that she's pregnant
Heather said the pregnancy was a "huge shock" but was "excited that it happened like this"
The "Selling Sunset" star shared snaps of her baby bump on Instagram
Tarek and Heather Rae El Moussa are expanding their family.
On Wednesday, the couple confirmed the happy news that the "Selling Sunset" star is pregnant with their first child together.
Tarek and Heather, who started dating in 2019 and tied the knot in October 2021, told People that it came as a "huge shock" because they were in the middle of in vitro fertilization treatments and had even scheduled a date to transfer an embryo next fall.
"It was a huge shock," Heather, 34, said. "We just weren't expecting this. We had just gone through IVF. We had embryos on ice. We had a plan."
But though the pregnancy came as a surprise, the reality star said she couldn't wait for the arrival of the new addition to their family.
"I think when you least expect it and there's no stress in your life, the world just brought us what was meant to be. I'm so excited that it happened like this," she said.
Tarek and Heather initially didn't have plans to have their own children. The "Flip or Flop" alum shares two children, Taylor, 11, and Brayden, 6, with ex-wife Christina Hall.
Although the pair have been documenting their fertility struggles for months, Heather felt fulfilled being what she called "a bonus mom" to her "incredible" stepchildren.
"But as your love grows more and more and you fall deeper in love with someone and you build this life together, I started picturing myself having a child with Tarek," she explained. "I started thinking I just wanted to create something with the man that I'm in love with."
Tarek, 40, said he is as "excited" as his wife about their upcoming bundle of joy. According to the HGTV star, he is "just obsessed with [his] kids" and having another child "is just icing on the cake."
Heather gushed over her husband, calling him a "good dad." She said one of the reasons why she wanted to have a child with Tarek was that he's such a "doting" and "amazing" father to Taylor and Brayden.
"I can't wait to see him with our baby," Heather added.
The expectant mom also showed off her baby bump via Instagram, sharing snaps from her photoshoot with Tarek, Brayden and Taylor.
"Surprise!!! Baby El Moussa coming early 2023!!" she wrote in the caption along with a heart emoji.
The couple, who is in the middle of filming the HGTV docu-series "The Flipping El Moussas," got the happy news a few weeks ago.
Tarek and Heather have already done the test to find out the sex of the baby but will be surprised by the results at a reveal party in a few weeks.
They will welcome their first child together early next year.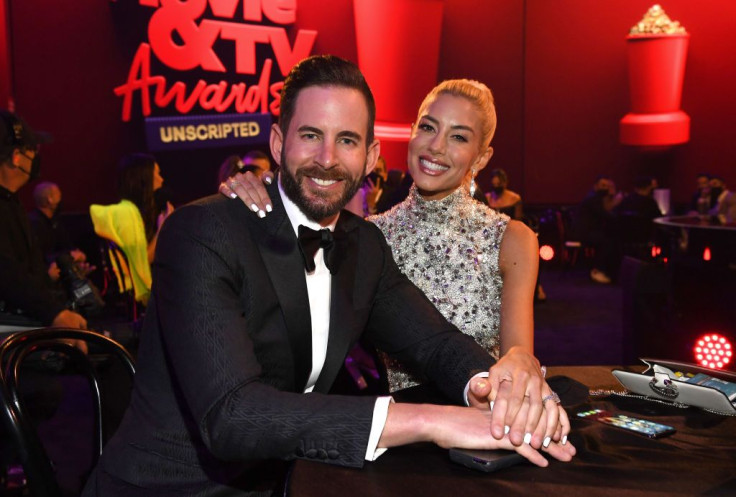 © Copyright IBTimes 2023. All rights reserved.