President Barack Obama Not Allowed To Use An iPhone, Relies On BlackBerry In 2016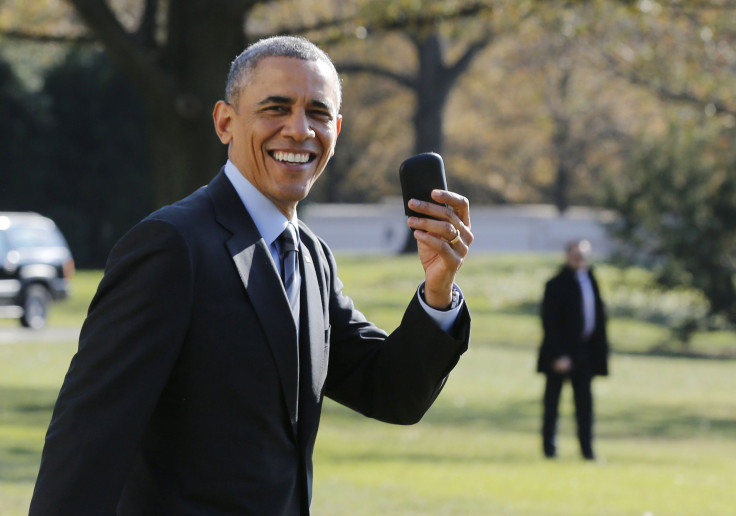 Despite the many tweets, hashtags and social media accounts the White House manages, the Oval Office needed a massive IT overhaul last year to get up to date. Antiquated phones, tons of useless Ethernet cables and spotty Wi-Fi had been standard at the White House before renovations in 2015. And yet all these upgrades have not extended to President Barack Obama's smartphone.
White House aides use iPhones, but the president himself has no say in what smartphone he can use. Instead of an iPhone or an Android device, he must use a modified BlackBerry, for security purposes. The National Security Agency was responsible for first setting up Obama's BlackBerry when he was president-elect in 2008. The phone was stripped of most of its functionality to make way for extra layers of encryption. The NSA did not disclose if Obama could text or send emails from his BlackBerry. Obama is not the only world leader to rely on a BlackBerry. German Chancellor Angela Merkel and British Prime Minister David Cameron are known BlackBerry enthusiasts.
While the out-of-fashion BlackBerry was chosen for security reasons, other White House technology has languished behind modern standards due to bureaucratic inertia. White House technology used to be overseen by four agencies. The National Security Council, the Executive Office of the President, the Secret Service and the White House Communications Agency were in charge of setting up internet networks, computers, phone systems and purchasing software for the White House, the New York Times reported. Obama streamlined the process with the creation of the United States Digital Service in 2015.
Anita Decker Breckenridge, deputy chief of staff for operations at the White House, has led the charge in upgrading White House technology to something resembling what one would normally find in a Starbucks, an office building or average living room. Breckenridge hired David Recordon, who oversaw the IT needs of Mark Zuckerberg and Facebook, to fix the Oval Office. Miles of forgotten cables weighing 13,000 pounds were removed as part of the renovations.
The White House also received new computers and color printers. A phone system with built-in speaker phones and speed-dial, the first upgrade since Bill Clinton was in office in the late 1990s, was another improvement. In what may be Breckenridge's crowning achievement, the Wi-Fi in the Roosevelt Room is strong enough to support live streams.
© Copyright IBTimes 2023. All rights reserved.
FOLLOW MORE IBT NEWS ON THE BELOW CHANNELS