Prince Charles Received Training As King From This Royal, Not Queen Elizabeth
Prince Charles is gearing up to be the next king. And even though Queen Elizabeth II is passing on some of her duties to her eldest son, she's not the first person who trained the heir to the throne for his important role.
Historian Dr. Piers Brendon revealed in the documentary "The Royal House of Windsor" that it was actually the Queen Mother who trained Prince Charles on how to be a king. The dad of two grew up under the care of his grandmother since the Queen and Prince Philip were always on their royal tours and engagements.
"The queen mother provided the kind of backbone that her last husband Bertie had lacked. And I think she felt that Charles was similar, that he was kind, that he required affection, and she'd felt that she could exercise over Charles the kind of influence that she'd exercised over Bertie," he said.
According to "Top Job" narrator Gwilym Lee, the Queen Mother became a widow at the age of 51. But even if she was no longer the Queen, she didn't have any plans to slow down or retire. The Queen Mother was determined to maintain her place in the center of power.
As such, the mom of two decided to focus her attention on her favorite grandson, Prince Charles. She trained him to become a future King after also training her late husband, King George VI.
Meanwhile, Prince Charles had always been close to his grandmother. The late royal was described as huggability personified. She was warm, cuddly, and affectionate, unlike her eldest daughter. Prince Charles was never close to his mom because she didn't raise her, but during one occasion, he expressed how much he misses his parents.
In a letter that the Queen Mother wrote for the 93-year-old monarch, she said that Prince Charles thought that his parents will be coming home for Christmas. But since the Queen and the Duke of Edinburgh were in Malta at that time, Prince Charles celebrated the holidays in Sandringham with his grandparents.
"Somehow Charles thought you were coming. His face lit up and he said 'Mummy' in a voice of bliss. I am sure he misses you and Philip," the Queen Mother wrote.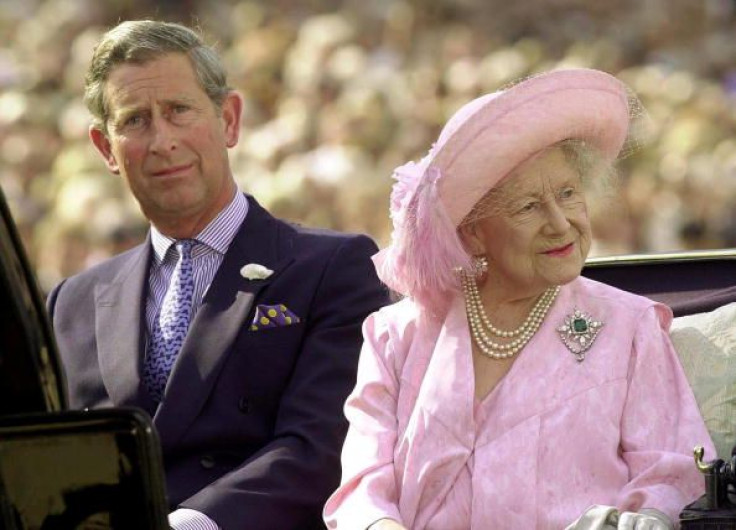 © Copyright IBTimes 2023. All rights reserved.