Prince George And Princess Charlotte's Gifts In 2015: Pyjamas, Snow Suit, Samurai Helmet Painting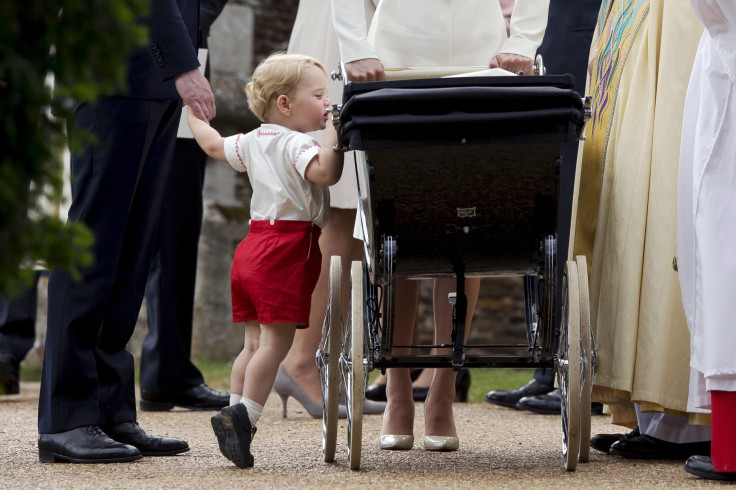 Prince George and his baby sister Princess Charlotte received lots of presents last year. Some of these include a set of pyjamas, a snow suit, a crocheted pram blanket and a painting of a Samurai helmet. The parents of the little royals Kate Middleton and Prince William received these gifts on their behalf.
The Duke and Duchess of Cambridge received almost 100 presents for their son and daughter during tours and official visits. This was stated in an official record released by the palace on Wednesday. Items accepted during local engagements have not yet been listed. Besides, before Christmas, the tots were flodded with gifts galore from various places.
When William went to Japan for the first time in February 2015, he took home some wonderful souvenirs for George from local well-wishers. The items included a wooden toy, a Samurai painting and two Kendama games, which is similar to the cup-and-ball game. He received a soft toy for George from the Emperor and Empress of Japan.
During his official trip to the Far East including China, William was overloaded with gifts including a vase and a stand from President Xi Jinping and a rug and a mobile telephone from well-wishers. For his son, the 33-year-old royal received six DVDs, two toy aeroplanes and a pair of pyjamas among other gifts. It was the first time a senior royal had visited China since 1986.
Meanwhile, Prince Harry during his tour to New Zealand in May was given gifts for his baby niece and nephew. He accepted three soft toy penguins, a snowsuit and sleepsuit for baby Charlotte as well as a bib and quilt. Harry also accepted personalized sports shirts with George and Charlotte's names embossed on the back.
Prince Charles also received gifts on behalf of his grandchildren. Baby Charlotte, who turns one in May, was given a crocheted pram blanket, a wooden rattle and a knitted dress from well-wishers in the Republic of Ireland. George was also gifted with a knitted jumper and a giant lollypop.
While the official figures states gifts of George and Charlotte to almost up to 100 items, the youngsters would have received even more presents from local engagements that William and Kate undertook last year.
© Copyright IBTimes 2023. All rights reserved.