Prince George's Comment Proves He Knows William Will Be King: 'Better Watch Out'
An account of Prince George's past interaction with his playmates in school shows that the young royal is aware of his father's future as king. In her book "The New Royals," Katie Nicholl shared how Prince George once asserted his authority while playing with his friends saying they "better watch out" because his father will be king someday.
The incident occurred at the young prince's former school, Thomas Battersea, Nicholl wrote. "George understands he will one day be king and as a little boy sparred with friends at school, outdoing his peers with the killer line, 'My dad will be king so you better watch out,'" she wrote.
The author said Prince George is growing up very much aware of his royal blood and that he, too is in line for the throne. Prince William and Kate Middleton are reportedly careful in raising their three children with an awareness of their future in the British monarchy without putting much emphasis on duty.
"They are raising their children, particularly Prince George, with an awareness of who he is and the role he will inherit, but they are keen not to weigh them down with a sense of duty," she wrote.
In his book "Battle of Brothers," British historian Robert Lacey wrote that Prince William and Kate first told Prince George about his future in the monarchy around the time of his seventh birthday. Despite that, the royal couple's goal is reportedly to give him a normal family upbringing, as it will enable the monarchy to "stay relevant and keep up with modern times."
All three children of the Prince and Princess of Wales—George, Charlotte, and Louis are in line for the throne. After Queen Elizabeth's death, Prince George was bumped up to second in line for the throne, next to his father, who is now the first in line after King Charles took over his late mother's role.
Meanwhile, Prince George is no longer attending Thomas Battersea, where the Wales children reportedly received the same treatment as other students. It was reported last month that the young prince and his siblings are now attending school at Lambrook.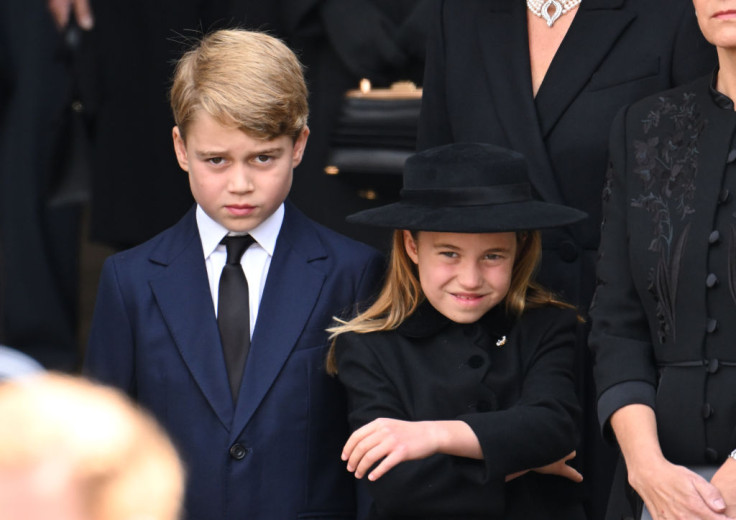 © Copyright IBTimes 2023. All rights reserved.