Prince Harry Gets Emotional When Presented With Meaningful Gift From An Injured Marine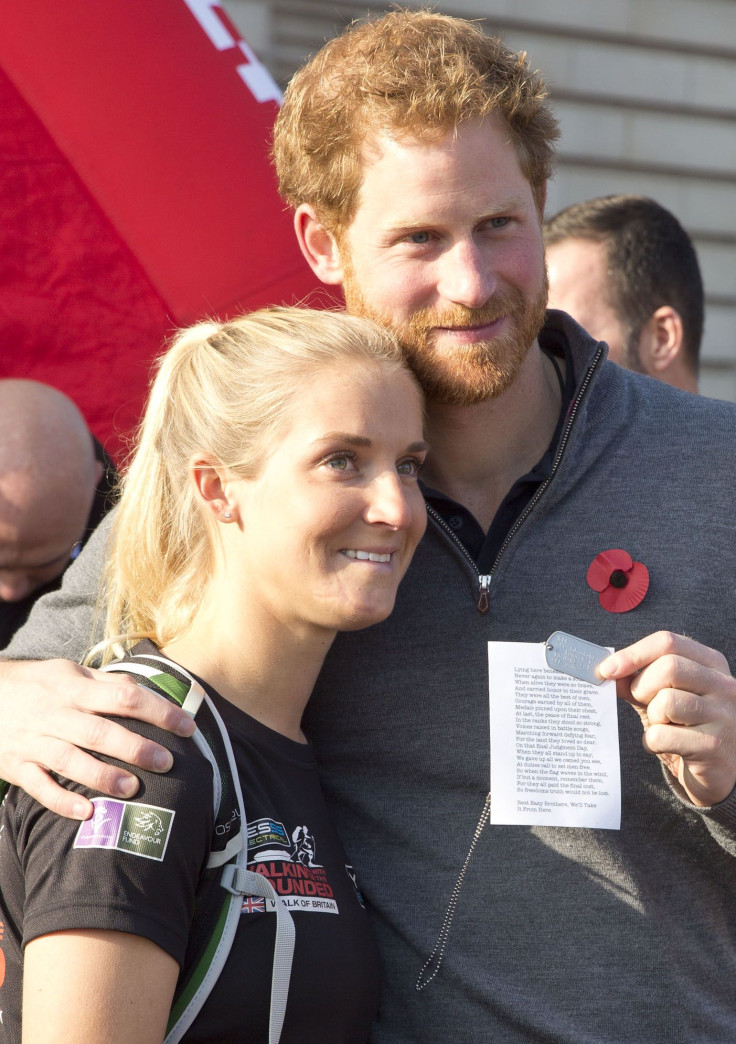 After years in the public eye Prince Harry has grown used to the affections of strangers, but during a recent meeting with an injured Marine he could barely maintain his composure. The young royal met with Kirstie Ennis on Sunday where he was presented with an incredibly heartfelt gift.
As was reported by Us Weekly, Ennis, 24, arrived at Buckingham Palace after trekking 1,000 miles on foot. She was joined on her journey, which was to benefit the charity organization Walking With the Wounded, by five other people. Upon arriving, Ennis presented Harry, 31, with her gift: the dog tags of a fellow Marine, Corporal Baune, who fell in combat. The gesture left Harry noticeably choked up as he tried to dissuade her, saying he couldn't possibly accept the tags. Ennis insisted, however, telling him it meant a lot for him to have them. The Kensington Palace Twitter account uploaded a photo of Harry and his new Marine friend sharing a hug during their meeting. In the tweet the royals congratulated Ennis and her crew for completing the walk of Britain.
Prince Harry, a former active service member himself, has been a known supporter of military men and women. On Sept. 30 the youngest son of the late Princess Diana surprised students at the Duke of York's Royal Military School in Dover, England. He arrived in full ceremonial uniform and left students stunned according to reports from Hello magazine. During the visit he is said to have overseen the school's parade and presented medals to some of the students.
Visiting young military school kids is hardly the first time Harry's shown his support for the military. On Sept. 24 he and his older brother Prince William teamed up to help build homes for veterans and longtime residents of Manchester, England. The royal duo were joined on the build by other volunteers according to People. The build was a part of BBC's home makeover show "DIY SOS."
© Copyright IBTimes 2023. All rights reserved.