Prince Harry, Meghan Markle Accused Of 'Exploiting' Queen Elizabeth In UK Visit
KEY POINTS
Prince Harry and Meghan Markle made an unannounced visit to Queen Elizabeth before heading to the Netherlands for the Invictus Games
Royal biographer Tom Bower accused Harry and Meghan of visiting Queen Elizabeth for their Netflix documentary
Royal expert Ingrid Seward believes the couple returned to the U.K. to extend an olive branch to the royal family
Royal experts are weighing in on Prince Harry and Meghan Markle's visit to Queen Elizabeth II this week.
Earlier this year, the Duke and Duchess of Sussex announced that they won't be able to return to the U.K. to attend his late grandfather Prince Philip's memorial service on March 29 but revealed plans to visit the Queen "soon."
Prince Harry and Markle fulfilled that promise when they made a pit stop in London to visit Queen at Windsor Castle this week before heading to the Netherlands for the Invictus Games, which kicks off Saturday.
However, royal biographer Tom Bower, author of "Rebel Prince: The Power, Passion and Defiance of Prince Charles," has speculated that the couple had an agenda in visiting the Queen, accusing the Sussexes of exploiting the 95-year-old monarch for their Netflix documentary.
"I have no doubt it was all done for their Netflix documentary," Bower told Mail Online. "The Queen's advisers failed to protect her from being exploited by the royal family's worst traducers, while the Sussexes exploited an old, unwell woman to boost their credibility and coffers."
A few days before news of Prince Harry and Markle's U.K. visit broke, royal expert Angela Levin, author of "Harry: A Biography of a Prince," also claimed that the couple would only return to the duke's home country if they can bring Netflix cameras.
"I think they'll come back if we'll allow them to bring Netflix cameramen, they won't come otherwise," Levin told The Sun.
The duke and duchess' rep confirmed this week that Markle is joining her husband at the Invictus Games in The Hague in the Netherlands. Levin claimed that Markle is going because "they're doing the next Netflix documentary."
"They're going with cameras, and she wouldn't want to miss out on the publicity," the royal expert further alleged. "The Invictus Games don't belong to her, she likes taking over things that she thinks will be productive for her. She's not necessary there."
But royal commentator Ingrid Seward, editor-in-chief of Majesty Magazine, has a different take on the Sussexes' U.K. stop.
Seward said she believes that the visit to the Queen was Prince Harry and Markle's way of offering "an olive branch" to the royal family, which she thinks "must have taken a lot" for the Sussexes. The royal expert also noted that the timing was perfect.
"Maundy Thursday is a very special day for the Queen as it is about forgiveness. [The Queen] is not one to hold grudges, and I think she would have happily welcomed them with open arms," she told The Sun.
However, while Prince Harry and Markle met with Queen Elizabeth and Prince Charles during their recent visit, Prince William and Kate Middleton were not involved in the meeting, ITV royal editor Chris Ship reported.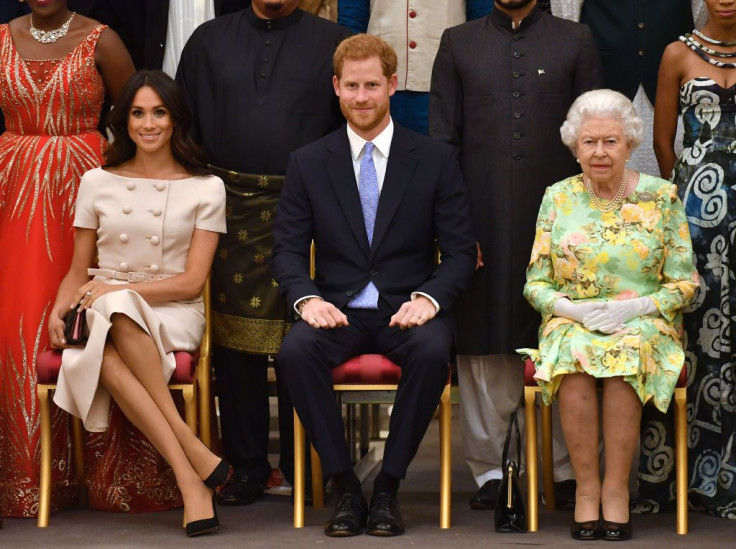 © Copyright IBTimes 2022. All rights reserved.
FOLLOW MORE IBT NEWS ON THE BELOW CHANNELS