Prince William Enjoying Life With Princess Charlotte Despite 'A Few Sleepless Nights'; Says Prince George Is 'Very Lively'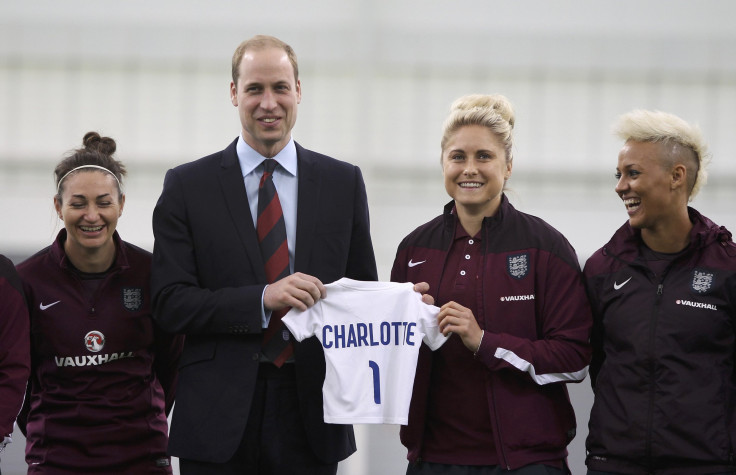 It's been nearly three weeks since Britain's Prince William and the Duchess of Cambridge, Kate Middleton, welcomed their second child, Princess Charlotte Elizabeth Diana. The royals are settling into life as a foursome at their country home in Norfolk, England, and are said to be "enjoying" being parents once again.
Prince William visited with the England women's soccer team the Lionesses on Wednesday in one of his first appearances since the birth of Princess Charlotte on May 2. The 32 year old got candid about fatherhood with the team's captain Steph Houghton and her teammates. According to reports, William said he was excited to welcome Princess Charlotte into his family, but added that neither she, nor her 22-month-old brother Prince George, had been allowing him to get much sleep.
"All the girls were asking how Princess Charlotte is and Prince George and whether they keep him up all night," Houghton revealed. "He was saying he's obviously really enjoying being a father and Princess Charlotte is actually keeping him up - and probably why his eyes are looking a little bit tired."
It's not just the young princess that's been keeping Prince William from getting a good night's sleep. According to Houghton and his teammate Jill Scott, Prince George has also been contributing to his father's fatigue. Houghton said the Duke told the Lionesses "[Prince] George is very lively," adding that "He never stops moving!"
"He said he'd had a few sleepless nights. The baby will be up and George is running around now isn't he?" Scott said. "It reflects that he does a normal life away from his duty as prince."
As we previously reported, Prince William and his wife, Kate, have decided to spend the summer outside of Kensington Palace where they can "focus on the family." They are rumored to have decided not to hire outside help with the children, despite the fact that the Duchess will be alone with the children for much of the summer. William was reportedly be given just a few weeks paternity leave before having to return to his duty as an ambulance pilot June 1. Regardless, they are said to be excited about this "period of calm."
© Copyright IBTimes 2022. All rights reserved.
FOLLOW MORE IBT NEWS ON THE BELOW CHANNELS