Prince William and Kate Middleton Draw Huge Crowds in Canada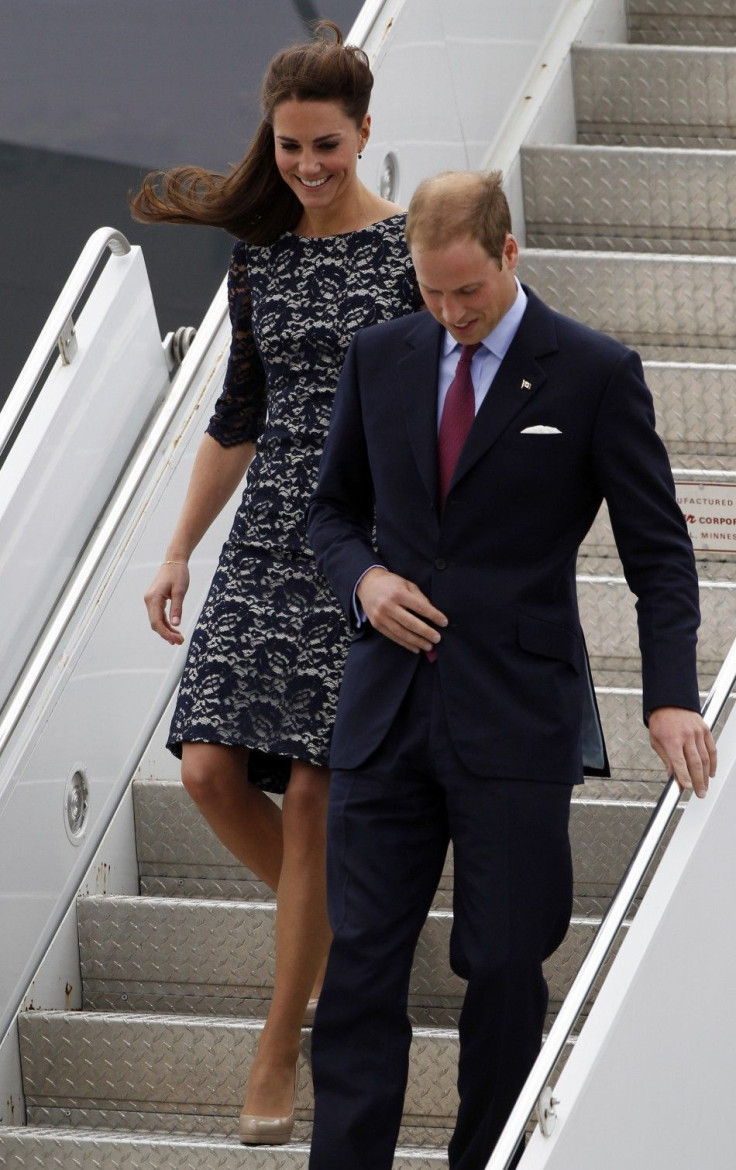 Will and Kate, or the Duke and Duchess of Cambridge, arrived in Canada today for the first leg of their North American tour.
A Canadian military plane carrying the newlywed couple landed at Ottawa's Macdonald-Cartier International Airport just after 2 p.m. and the smiling couple stepped off the plane into the bright sunshine of the Canadian summer. On the tarmac, they shook hands with Canadian officials before leaving immediately for the National War Memorial.
Kate was photographed wildly in a royal blue dress at London's Heathrow airport, but changed into a three-quarter-sleeved lacy, form-fitting dress for her royal welcome in Canada.
The couple will be in Canada for nine days. Here's a look at their itinerary:
June 30-July 2: National Capital Region (Ottawa, Ontario and Gatineau, Quebec)
July 2: Montreal
July 3: Quebec City
July 3-4: Charlottetown, Prince Edward Island
July 4: Summerside, Prince Edward Island
July 4-6: Yellowknife, Northwest Territories
July 6-8: Calgary, Alberta
On the 8th, they fly to Los Angeles for three days, their only stop in the United States.
The popularity of this couple is global, says Sean Simpson, author of a new Ipsos Public Affairs poll on Canadian attitudes toward the royals. They are clearly in love and people can see that and that is telling them there is a secure future for the monarchy down the road.
The poll results do not show overwhelming support. Forty-eight percent of Canadians still think the monarchy should be abolished. But that is 10 percent fewer than a year ago, when William's grandmother, Queen Elizabeth II, visited Canada. Mr. Simpson says it is a significant change in a country where the royal family's popularity has been steadily waning.
Canadians have been pretty fickle on the monarchy, he says. Basically, we've got other things to think about.
The young prince and his wife do, however, have star power to burn and Canadian officials expect that this will be one of the most-watched royal tours in Canadian history.
If their first day is any indication, the royal couple will have a huge following all across the continent. Thousands of people gathered in front of the National War Memorial and at Rideau Hall, their second stop in the Ottawa area.
People from around Ottawa as well as outside the country had gathered at both locations, carrying signs, photographs of the couple and royal paraphernalia.
Canada's prime minister has even unveiled a personal flag for use during William's visit. It is the first flag to be created by Canada for a member of the royal family since 1962, when the queen adopted a personal flag for her own use in Canada.
Prime Minister Stephen Harper said the flag was approved by the queen and William.
Here's a look at the couple as they arrived in Ottawa:
© Copyright IBTimes 2023. All rights reserved.