Prince William, Kate Middleton, Meghan Markle, Prince Harry's Body Language Decoded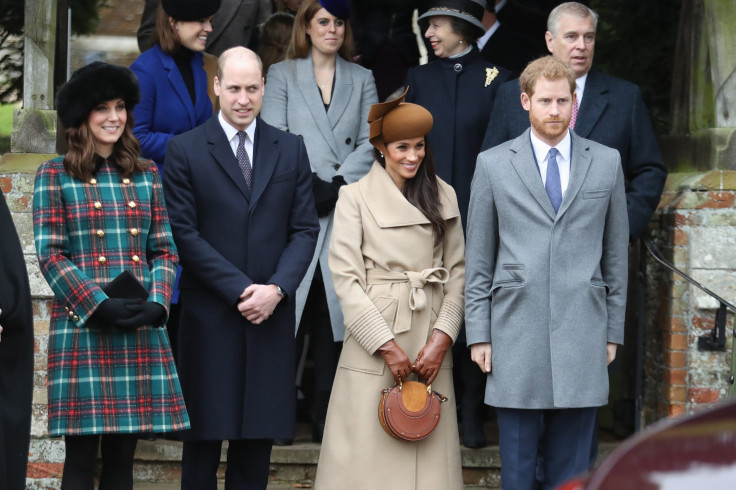 Prince William, Kate Middleton, Prince Harry and Meghan Markle's body language speaks volume about their relationship.
The "Suits" actress and the royal trio were spotted altogether for the first time during their morning walk to attend the Christmas service on Monday. Many were happy and overjoyed at the sight of the Duke and Duchess of Cambridge walking side by side with Markle and Prince Harry. According to Sarah Constantine, their movements and the positions of their bodies have revealed a lot about their connection.
"When I look at the two of them here, even though there is distance between the two of them ... that does not show that there is distance between the two of them, but rather, the two of them are so comfortable being around each other," Constantine told Elite Daily about the Duke and Duchess of Cambridge.
Another body language expert, Patti Wood, also find a strong connection between Prince William and Middleton. In fact, she thinks that the couple is more passionate in private even if they rarely touch and hold each other's hands in public.
"If you look at him [Prince William] on the left, see how his body — the lower torso body and then the belly — [is] slightly angled toward her [Middleton], and her pelvis is slightly angled toward him … that's called the 'love V'" Wood explained. "It shows a love connection and that's really, really nice."
Meanwhile, Constantine finds Prince reserved and Markle insecure, so she keeps leaning on him. This could be the reason, the "Horrible Bosses" star frequently holds her fiancé's arm in public.
"I don't see anything negative going on between them. It's just that he's more reserved, she's more insecure, [and the fact that] she grabs on to him feels a little insecure," Constantine told Elite Daily about the newly engaged couple.
Constantine added that Markle is still finding her place in the royal family and she's seeing a potential friendship between the actress and the Duchess of Cambridge. Between the two ladies, Markle appeared more uncertain, but she's not competing with Middleton.
Middleton is expected to be Markle's mentor as the "Remember Me" actress prepares to join the royal family. When the royal mom of two joined the most popular British family, she was helped by Sophie, Countess of Wessex. This time, the Duchess of Cambridge will be returning the favor to Prince Harry's fiancée.
Do you agree with Constantine's interpretation of Prince William, Middleton, Prince Harry and Markle's body language? Drop a comment below.
© Copyright IBTimes 2023. All rights reserved.