Princess Charlene Of Monaco Readying For Twins' 'Terrible Twos'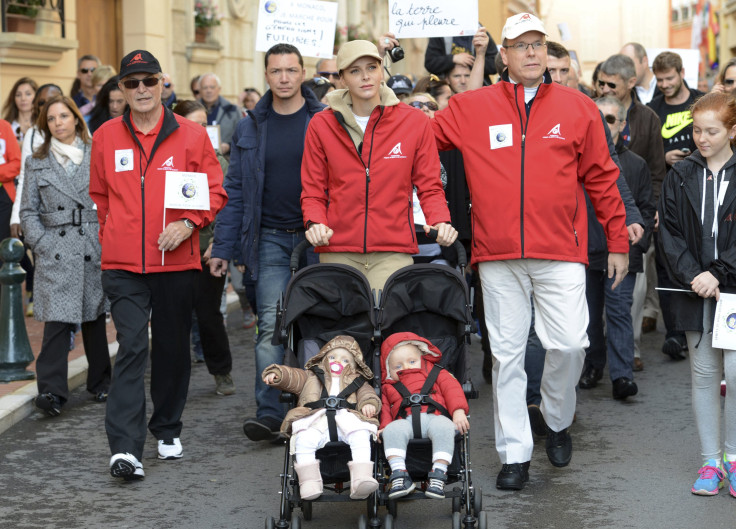 Princess Charlene of Monaco is currently readying for her twins becoming toddlers. The 38-year-old princess is mom to twins Prince Jacques and Princess Gabriella. The Monaco royal twins turned one on Dec. 10.
Charlene, who is married to Prince Albert II of Monaco, was in Los Angeles for the opening of her Princess Charlene of Monaco Foundation on Wednesday. "I'm hearing about the terrible twos now that they're 18 months. I'm preparing myself for this," said Charlene. The South Africa-born royal was speaking to television personality Mary Hart at the Blue Ribbon of the Music Center luncheon on Thursday.
She said that she was missing her twins terribly. Charlene added that currently she was a full time mom and did not know for how long it would continue. On being asked whether her little ones knew that they were royals, her answer was yes.
Talking about Jacques and Gabriella, Charlene said that they were similar, but very different. She added in a lighter vein that Jacques had his first kiss at 16 months with a crush, and that Gabriella was fabulous. The Monegasque royal said that both Albert and her take turns in looking after the kids.
In March, the proud dad said that his twins were learning to talk. The 58-year- said in an interview with People that his little kids "have already begun talking." Besides, in November, the prince gushed about his wife and said that she was a "hands-on mother" who took care of the twins single-handedly.
Charlene looked stunning in a white tea-length dress. Her dress featured cap sleeves, a jacket. She paired her outfit with black strappy sandals. The stylish royal accessorized with a diamond bracelet, two delicate gold bracelets, a necklace with a cross pendant, and her engagement ring, she also wore small earrings. Charlene flaunted her blonde pixie cut and wore her signature red lipstick.
© Copyright IBTimes 2023. All rights reserved.