Princess Eugenie Honors Prince Andrew, Sarah Ferguson By Doing This For Wedding
Princess Eugenie just made a sweet nod to her parents, Prince Andrew, and Sarah Ferguson, ahead of her royal wedding.
Isabella Sullivan, a journalist for Express, revealed that Princess Eugenie chose the Archbishop of York, Right Reverend David Conner, to officiate her wedding ceremony. This may be the princess' way of paying tribute to her parents who are known as the Duke and Duchess of York.
In related news, more details about the upcoming royal wedding have been released on Friday via the royal family's official website.
"As the wedding day approaches, the couple wish to share the following details of the day. The wedding service will take place at St. George's Chapel at 1100 hrs. with the Dean of Windsor, the Rt Revd. David Conner officiating. The Archbishop of York, the Most Revd. And Rt. Hon. John Sentamu will lead the prayers," the statement read.
"Other guests in the castle grounds will include representatives of charities and organizations supported by the couple, including the Royal Nation Orthopaedic Hospital, the Teenage Cancer Trust, the Salvation Army, and the UN Trust Fund to End Violence Against Women. Children from two local schools, St. George's School and Coworth Flexlands School, both of which Princess Eugenie attended, will be present, alongside members of the Windsor community, residents of Windsor Castle, and a number of Royal Household staff," more information read.
In related news, Sarah Ferguson has reportedly sent out 850 invitations and not 800 invites to Princess Eugenie and Jack Brooksbank's family and friends. A leaked image of the wedding invitation was also reportedly uploaded online. It features black text on white paper.
The invitation also confirmed that Princess Eugenie and Brooksbank's wedding guest dress code is stricter than Prince Harry and Markle. Female guests are required to wear day dress and hats, while male guests may only wear their morning coat.
Prince Harry and Markle gave their guests the option to wear lounge suits because some of the Duchess of Sussex's friends are Americans. This means that they are not used to wearing morning coats.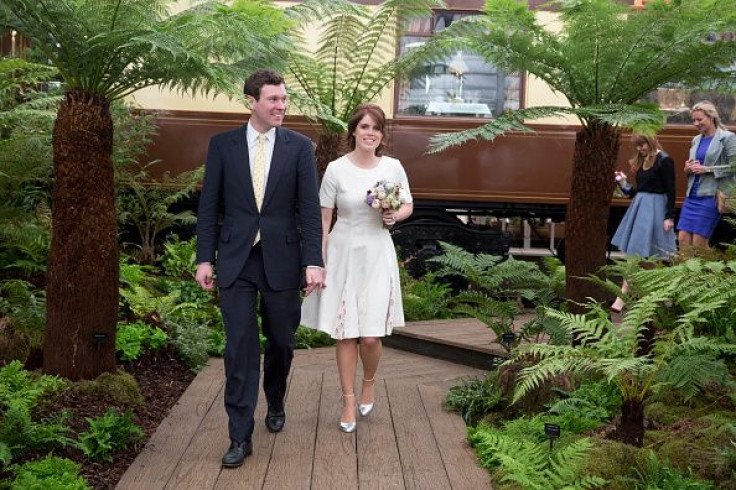 © Copyright IBTimes 2023. All rights reserved.