Private Air Travel: Now For The 5 Percenters, Too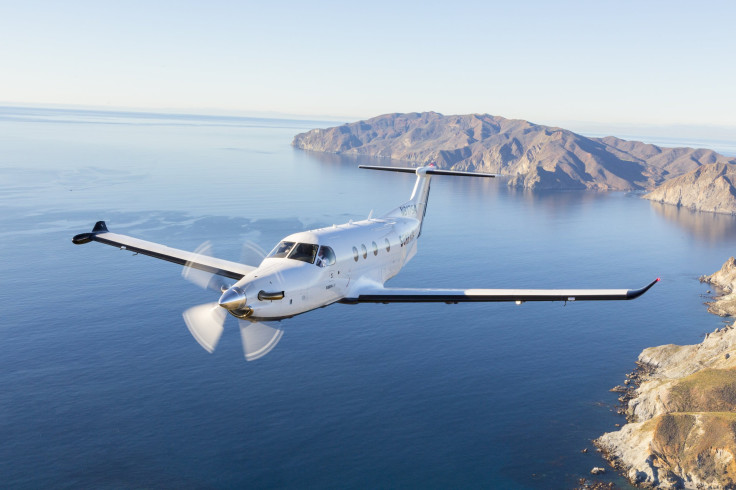 As founder and CEO of a tech startup, Ross McCray found himself flying from his home in Los Angeles to San Francisco several times a month for work. But hopping on a commercial flight involved all sorts of annoying steps, like going through security that wasted a lot of time in his busy schedule.
About a year ago, McCray signed his company up for a corporate membership with Surf Air, a startup service that describes itself as the first all-you-can-fly membership airline. For a flat monthly fee, McCray and his employees can fly as many times as they want on Surf Air's 8-seater turboprop aircraft, which travel daily between seven destinations up and down the California coast.
"It saves me so much time. I show up literally five minutes before the plane takes off, pull up, park my car, walk to the plane, and I'm off," said McCray. "Surf Air saves me about three hours per trip."
Surf Air is just one of a new class of companies that are seeking to disrupt the private jet market by making private air travel more accessible to, if not the masses, more people than those in the extraordinarily wealthy "1 percent." Call it private air travel for the "5 percent." They're also capitalizing on the increasing dissatisfaction travelers feel toward commercial air travel -- where security lines, delays and increasingly poor service has even business class travelers annoyed.
"A typical Surf Air member makes about $400,000 a year," said Justin Hart, vice president of memberships for Surf Air, which in addition to corporate memberships, sells individual memberships that allow for unlimited travel for $1,750 a month. "So they do well for themselves, but they're not über-wealthy."
That's a matter of perspective, of course. But traditional access to a private jet through owning a plane can cost hundreds of thousands of dollars. Chartering a private flight isn't cheap, either: A cross-country trip could easily go for $30,000. Even fractional ownership, which involves sharing in a piece of a plane's flight time, like a time-share, still typically starts in the five figures, depending on how many hours you fly per year.
"Today, there are even cheaper options and a lot of different flavors in the way to buy yourself a private flight somewhere," said Brian Foley, an aviation industry analyst in Sparta, New Jersey. "More and more companies are finding niches that haven't been done before, making getting a flight on a private jet easier for more people."
Beacon is another company getting into all-you-can-fly game. Based in the Northeast, Beacon plans to shuttle passengers between Boston and New York year-round, with seasonal service to the favorite playgrounds of the East Coast moneyed set: Nantucket and the Hamptons. It hasn't started flying its contracted small turboprop planes yet -- launch is targeted for the summer -- but Beacon is signing up memberships in its initial open pool of 500. Individual memberships cost $2,000 a month.
Beacon CEO Wade Eyerly says his goal is to create a service that brings some joy back to the flying experience. "When you fly, it's miserable. If you fly between two cities all the time, two to three times a month or more, that pain point becomes exceedingly acute," said Eyerly. "When your boss says I need you to go to X city, you get on Kayak.com, and your first action is to price shop. Ninety-nine percent of air travel decisions are made on the price of tickets. That's not how it should be. Our subscription model is going to move our business from a transactional one to a relational one."
According to Eyerly, passengers can book flights easily in 30 seconds through Beacon's mobile app and will be greeted by a concierge who knows their name and can assist them with travel issues like getting a private car or other needs in-flight. And because Beacon will not require annual memberships, the company will have to work to keep its customers satisfied, said Eyerly.
Not all startups in this arena are as committed to selling such a luxurious vision. Others, like the cheekily named HoboJet, are simply touting value and access to a once-in-a-lifetime experience at an affordable price.
Josh Allen of Scottsdale, Arizona, founded HoboJet while he was working for a private aviation company that arranges charter flights. Friends were constantly asking him when one of his company's planes might be flying an empty leg -- an unsold segment on a private jet that is usually headed somewhere to pick up a client. So he put together a blog that detailed when empty legs were available. It became so popular, Allen said, that he decided to turn it into a full-fledged business.
Allen's team is currently working on launching a mobile app that will send push notifications so "hobos" can be notified when an empty leg is available in their area. And Allen is focused on selling deeply discounted flights that typically go at the last minute.
"To go on our site, the flight has to be at least 50 percent off, though most of them are 70 to 90 percent off," said Allen. Upcoming flights featured on his site include a private flight from Las Vegas to Van Nuys, California, for $950 and Cabo San Lucas, Mexico, to Scottsdale, Arizona, for $4,000.
Erik Forrest, a small-business owner in Scottsdale, said he used the HoboJet service for a getaway to Las Vegas in February for his wife's birthday. The couple had booked refundable round-trip tickets on US Airways when they found an empty leg to Las Vegas the day before they were leaving.
"We just canceled our tickets out there and flew to Las Vegas on a private plane for $1,200," said Forrest, who wanted "the opportunity to experience a level of luxury you wouldn't get to do on a normal basis."
Jumpjet promises to bring that kind of luxury to the masses this summer. The company's tagline, "Fly private for the cost of your favorite airline" is a bold one -- and founder Will Ashcroft claims that prices for flights through his company's service "will go as low as coach." The further in advance travelers book flights, the more they'll save, said Ashcroft.
Jumpjet, which will supposedly offer flights in 70 cities, will also work as a membership model: For $21 a month, members will have access to Jumpjet's database, where they can search for deeply discounted private flights. The cost of flights will vary, said Ashcroft, but could be as low as $450. Premium membership, which starts at $2,350 a month, will allow members to fly 10 segments a year when flights are available for no additional cost. Passengers won't be on their own private planes, however: They'll likely be sharing rides with others.
Ashcroft is coy about how his company will offer such discounted fares -- and specifies that the private flights his service will offer are not empty legs.
"It appears to me that [Jumpjet's] niche will be to try to aggregate passengers on charter jets to lower the cost of flying privately," said aviation analyst Brian Foley. He added that the proliferation of companies like Jumpjet with unclear models just adds to the confusion of the flying public -- a barrier startups will have to overcome to gain customers: "I'm in the industry every day but still have to decipher each program."
(CORRECTION: An earlier version of this story identified Jumpjet as JumpJet. IBTimes regrets the error.)
FOR FREE to continue reading
✔️ Unlock the full content of International Business Times UK for free
offer available for a limited time only
✔️ Easily manage your Newsletters subscriptions and save your favourite articles
✔️ No payment method required
Already have an account? Log in
© Copyright IBTimes 2023. All rights reserved.