Project Loon: Stratospheric Balloons Are Connecting Hurricane Maria Victims In Puerto Rico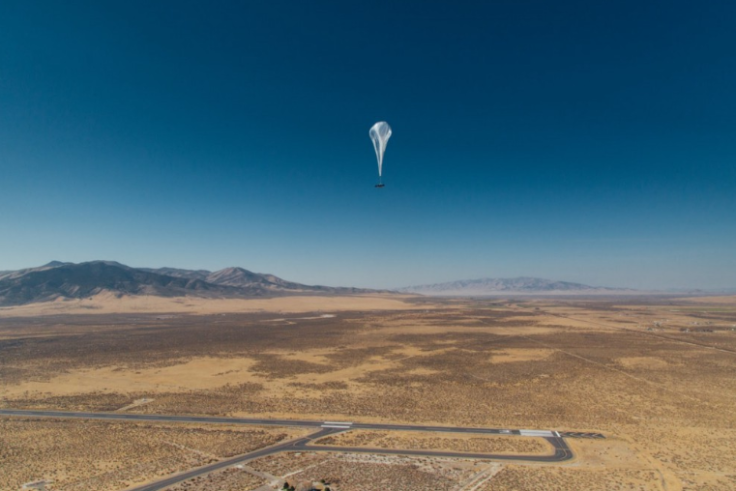 After Hurricane Maria battered down Puerto Rico and knocked down 90 percent of its cell towers, Alphabet's X unit, AT&T, Apple and the Federal Communications Commission are working to bring more cellular connection to residents on the island through Project Loon.
Alastair Westgarth, head of Alphabet X's Project Loon, announced on Friday that Google's parent company is helping hurricane victims with the new technology. Alphabet X is teaming up with multiple companies and government agencies to bring balloon-powered internet to residents in the most hard hit places in Puerto Rico.
What Is Project Loon?
Project Loon is a network of large stratospheric balloons that provides connectivity to people on the ground. The balloons rise more than 12 miles into the stratosphere and float twice as high as airplanes fly. The high rise of the balloons allows it to cover more distances than cell towers and connects users to the internet with LTE smartphones.
The balloons move depending on wind currents, which means the Project Loon team has to "get familiar with the constantly shifting winds" on the island to connect people for as long as possible, Westgarth said.
"This is the first time we have used our new machine learning powered algorithms to keep balloons clustered over Puerto Rico, so we're still learning how best to do this," said Westgarth. "We've never deployed Project Loon connectivity from scratch at such a rapid pace, and we're grateful for the support of AT&T and the many other partners and organizations that have made this possible."
Project Loon and AT&T are currently allowing residents with LTE smartphones to carry out basic communication and internet activities, like sending texts and accessing information online.
Apple has also been working with AT&T to bring connectivity to residents in Puerto Rico, according to TechCrunch. Through an update, iPhone users will be able to use the internet via Project Loon balloons.
Apple said in a statement :
"We are working with AT&T to activate cellular service for iPhone users in Puerto Rico as the island recovers from Hurricane Maria. Apple engineers have created a special carrier settings update which users connected to Wi-Fi or who are connected to a cellular network will automatically be prompted to download throughout the week. The update allows iPhone customers with iPhone 5c and later models running iOS 10 or higher, to connect to a provisional band on the AT&T network so they can be in touch with loved ones and get services in this time of need."
The use of Loon balloons comes after the FCC earlier this month granted an experimental license for Project Loon to operate in Puerto Rico.
"We plan to continue to offer emergency internet connectivity in areas where it's needed for as long as it is useful and we're able to do so," said Westgarth. "Project Loon is still an experimental technology and we're not quite sure how well it will work, but we hope it helps get people the information and communication they need to get through this unimaginably difficult time."
The use of stratospheric balloon technology is one way AT&T is helping those affected by Hurricane Maria. The company said on Friday it had already deployed more than 17 portable network assets, including 14 temporary cell sites, and are connecting 13 million calls and 6.5 million text messages per day in Puerto Rico and the U.S. Virgin Islands.
© Copyright IBTimes 2023. All rights reserved.