Putin, Obama Meeting: As War Rages In Syria And Ukraine, World Leaders To Discuss Military Campaigns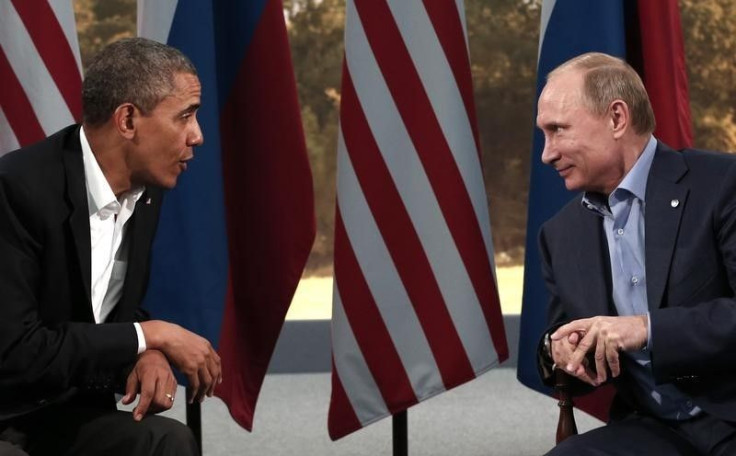 Russian President Vladimir Putin will meet with U.S. President Barack Obama at the United Nations Monday, Kremlin spokesman Dmitry Peskov said Thursday. The two leaders have had cool relations throughout their terms in office, but Russia's military involvement in Ukraine and Syria has raised U.S. concerns to levels not seen in years.
U.S. officials told Reuters that Putin had requested the meeting. "Given the situations in Ukraine and Syria, despite our profound differences with Moscow, the president believes that it would be irresponsible not to test whether we can make progress through high-level engagement with the Russians," a U.S. official told Reuters. "President Obama will take advantage of this meeting to discuss Ukraine, and he will be focused on ensuring Moscow lives up to the Minsk commitments. This will be the core message of this bilateral engagement." The Minsk peace agreement was signed in February, but has failed to end the conflict in Ukraine.
Both Obama and Putin, among other world leaders, are scheduled to speak Monday during the morning session of the U.N.'s 70th General Assembly. Obama will be fourth to speak with Putin expected to speak eighth. It was unclear when the bilateral talks would take place.
U.S.-Russia relations have fallen to a new low over the past year. The U.S. applied sanctions on Russian officials and companies over Russia's actions in the conflict in eastern Ukraine. Russia denies any direct military involvement in the conflict that began in 2014 and has taken the lives of nearly 8,000 people and displaced 1.4 million. Russia has accused the U.S. and NATO of encroaching on its rightful sphere of influence in Eastern Europe.
Russia's recent moves of deploying military advisers and weapons to Syria have prompted American concerns and led to the announcement that the two countries would hold talks over the situation.
A source in the Ukrainian government told the local news source Interfax that President Petro Poroshenko is not expected to meet with Putin. Poroshenko is scheduled to speak at the General Assembly on Tuesday.
"The possibility of such a meeting hasn't been planned, we didn't make any inquiries," the official said.
Putin also will meet with Japanese Prime Minister Shinzo Abe Monday, said Peskov.
© Copyright IBTimes 2023. All rights reserved.