Putin Praises 'Return' Of Crimea, Sends Out New Year's Greetings To US, Moldova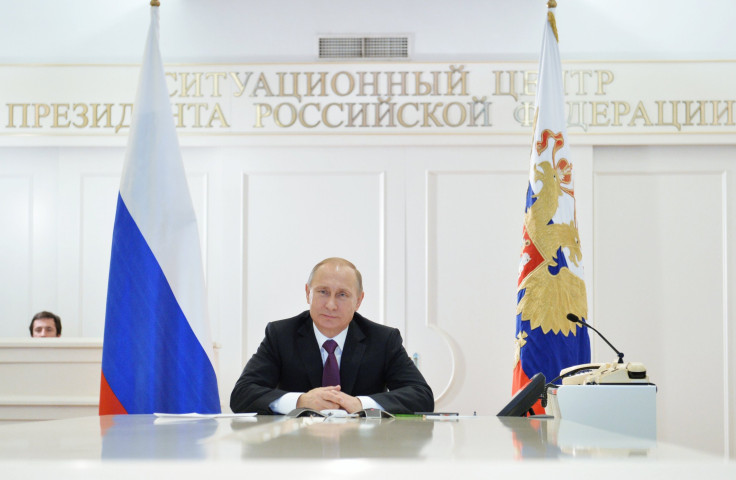 Russian President Vladimir Putin, arguably one of 2014's most influential people, sent out his New Year's greetings and well-wishes to over 30 world leaders on Wednesday, but perhaps Putin said the most with who he left out -- namely, Ukrainian President Petro Poroshenko and leaders of Poland, Lithuania, Estonia and Latvia (i.e., all of the most vocal critics of his country's alleged involvement in Ukraine). In a separate New Year's address, Putin praised the "return home" of Crimea, a Ukrainian territory that Russia forcibly annexed in the spring to the overwhelming disapproval of world leaders, according to Reuters.
Putin did send a message to U.S. President Barack Obama, who has been a vocal critic of Russia's alleged involvement in eastern Ukraine. He reminded Obama of the Russo-American cooperation during World War II and that their two countries bear a responsibility "for maintaining peace and international stability" in the modern age. Putin said he seeks to work with the U.S. but wanted "equality and mutual respect," according to the Associated Press.
He wished Moldovan President Nicolae Timofti a Merry Christmas and "expressed hope" that the two countries would work together "in order to strengthen regional stability and security." Some experts fear that the eastern pro-Russian Moldovan territory of Transnistria, which borders Ukraine, will be the next area in Eastern Europe to take up a violent separatist campaign with the help of Russia.
New Year's Eve marks the 15-year anniversary of the day Putin took power in Russia. He was acting president starting on December 31, 1999 before becoming president in May of that year and serving until 2008. Following that, he served as prime minister under close ally Dmitry Medvedev, effectively running the country until 2012 when he was reelected president.
Poroshenko and Eastern European colleagues have not shied away from accusing Putin of providing direct military assistance to pro-Russian separatists in Ukraine who began a breakaway movement in the spring after a pro-European movement ousted the former president, Viktor Yanukovych.
© Copyright IBTimes 2023. All rights reserved.