Queen Elizabeth II Dons Jodhpurs And Scarf, Goes Horse Riding In Windsor Castle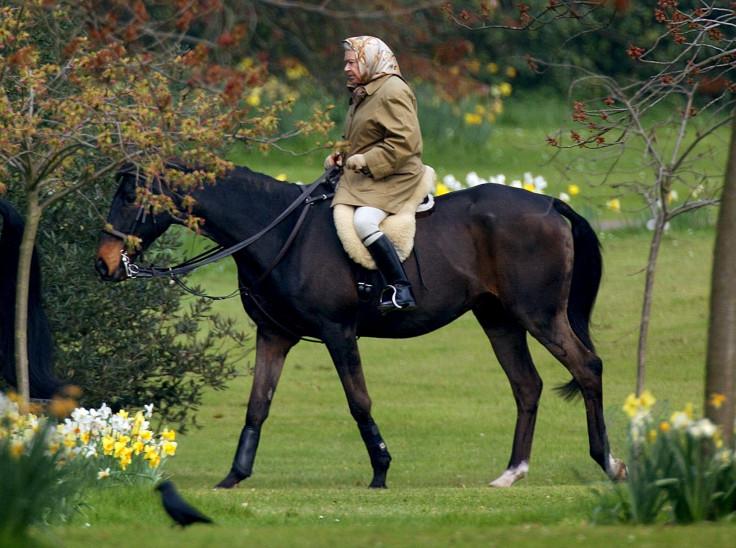 Queen Elizabeth II was spotted riding one of her favorite horses at Windsor Castle last week. It was after a long time that the nonagenarian royal indulged in her favorite hobby since November. The British monarch, who celebrated her 90th birthday on April 21, has not been deterred by her age to do something she loved.
Elizabeth looked comfortable in jodhpurs and her trademark scarf wrapped around her head, instead of her hats. She also wore her riding boots. The British royal rode her faithful mare Carltonlima Emma through Windsor Great Park accompanied by her long serving groom Terry Pendry.
Although she has had a knee trouble since a long time, it has not deterred her from enjoying her favorite sport. Elizabeth joked in the past that she does not like protective gear while riding as it spoils her hair and recently she admitted in an ITV documentary that she prefers not riding in rain either. "I'm rather a fair-weather rider now. I don't like getting cold and wet," she was heard telling one of her aides.
Camilla, the Duchess of Cornwall in the documentary said she marvelled to see her mother-in law's stamina as there is no one who could be riding a horse at the age of 90, and it was something she found was incredible about her mother-in law. However, royal watchers have noticed a change in pattern with the queen not riding as long as she used to do in past and also sticking to more private areas and in Windsor castle. An onlooker said that the queen does not go out for riding very frequently as she used to do in past and also does not ride for a long time at times maybe as little as 15 minutes.
Earlier, Sunday Express had reported that Elizabeth had undergone a knee replacement surgery. But, the highly spirited queen has been postponing the operation as she feared that undertaking a surgery would mean she would have to take rest for at least for six weeks. She did not want this to happen as she would have to skip her royal engagements.
Earlier this month during the state opening of the British parliament, it was for the first time that she avoided taking the 26 steps at the sovereign's entrance to the Palace of Westminster. She instead preferred a lift, although she has been in an extremely good health overall. Elizabeth has been riding since the age of four. However, over a period of time she has started favoring sturdy ponies renowned for their strength, surefootedness and steady temperament.
© Copyright IBTimes 2023. All rights reserved.
FOLLOW MORE IBT NEWS ON THE BELOW CHANNELS