Queen Elizabeth II Thanks Fans For Her Record Reign; Kate Middleton To Receive Special Honor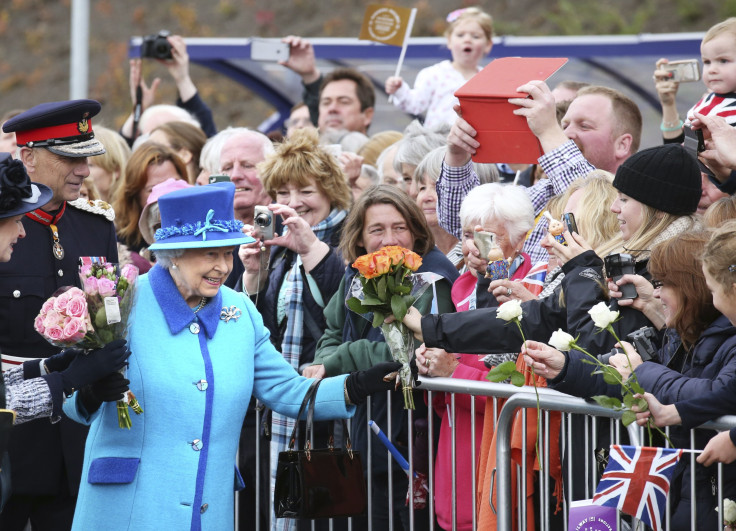 Queen Elizabeth II became the longest-reigning British monarch Wednesday, and chose to mark the day in private with her husband Prince Philip and her family. There were nationwide celebrations for the queen, but she requested people for low-key and sombre events.
The Cambridges also traveled to Balmoral Castle for a small family dinner with Elizabeth. Prince George and Princess Charlotte were expected to be present to celebrate their great-grandmother's big day.
Meanwhile, Kate Middleton, the Duchess of Cambridge, will also reportedly receive the "Royal Family Order of the Queen," the highest honor bestowed upon a female member of the royal family. It is a personal memento rather than a state decoration, although it can be worn during state occasions. An official announcement has been made by the palace about it.
Earlier, Prince William's late mother Princess Diana and Prince Charles' present wife the Duchess of Cornwall, Prince Edward's wife Sophie Wessex had also been pictured wearing the Order to the wedding of Princess Madeleine of Sweden in 2013.
Meanwhile, Elizabeth spent the day carrying out an official engagement along with her husband. The royal couple traveled by train to open the Scottish Borders Railway in Edinburgh, Midlothian and Tweedbank. They were accompanied by the first minister of Scotland Nicola Sturgeon and some 150 selected guests.
Elizabeth looked elegant in her bright turquoise and indigo coat by Karl Ludwig, and a hat by Angela Kelly. She paid tribute to her great-great grandmother Queen Victoria, whose record she has broken, by wearing a bow brooch that was passed down to her by the late monarch.
The 89-year-old greeted fans gather to have a glimpse of their beloved queen. "Inevitably a long life can pass by many milestones – my own is no exception – but I thank you all and the many others at home and overseas for your touching messages of great kindness," Elizabeth said speaking about her milestone. She added that the record was "not one to which I have ever aspired."
In London, a flotilla of historic vessels, leisure cruisers and passenger boats took part in a procession along the Thames and HMS Belfast sounded a four-gun salute. Prime Minister of the U.K. David Cameron paid tribute the Elizabeth, while earlier in the day an official photograph of the queen was released by the Buckingham Palace, with her "red box" full of government papers taken by Mary McCartney, Paul McCartney's daughter.
© Copyright IBTimes 2023. All rights reserved.