Queen Máxima Of Netherlands Attends Meeting In Pakistan In Traditional Clothes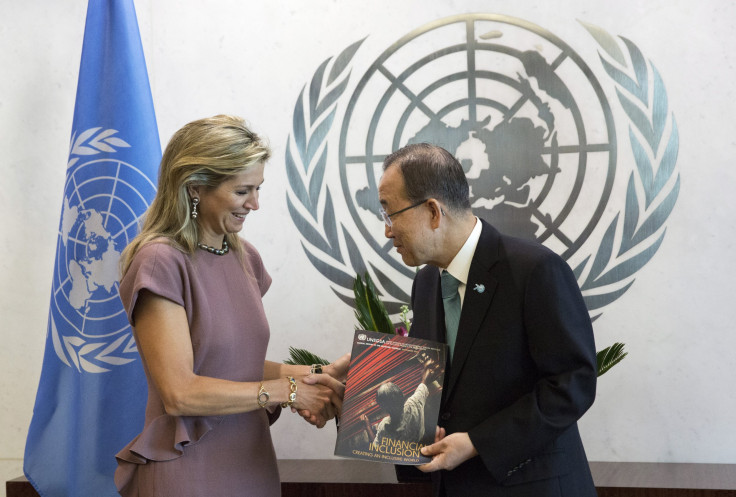 Queen Máxima arrived in Pakistan on a three day visit Tuesday. The 44-year-old Dutch royal looked elegant while on her visit to promote financial inclusion. She is representing as a special advocate for the United Nations secretary-general's program for inclusive finance for development.
After landing at Islamabad airport, Máxima opted for more traditional clothes, as she headed straight to her first meeting with the State Bank of Pakistan. The Dutch queen wore a chocolate brown silk blouse with long sleeves, elaborately patterned long skirt and matching shawl. She accessorized it with turquoise oval drop earrings, matching ring and a delicate bracelet.
Máxima also carried a big black handbag and a matching clutch. She completed her look in a pair of nude and brown pointed toe pumps. Her long blonde hair was left loose and tucked away behind her ears.
Her main focus on this trip is to promote financial access for all. The main priority of her meeting was to discuss how banks are making financial services accessible to more people. This is Máxima's first visit to a South Asian country.
She will be attending a round-table discussion and she will also be meeting the World Bank Group. She will later be introduced to the Benazir Income Support Programme. The programme gives financial support to women through digital bank accounts thereby increasing their independence.
During her visit the queen is also supposed to meet the Pakistani president and Prime Minister Nawaz Sharif and finance minister Ishaq Dar. Apart from which she also met the governor of the State Bank of Pakistan.
The program that Máxima is promoting was launched by the U.N. in May 2015. The aim of this program is to provide the availability of the financial tools that the poor need to protect themselves against hardships and improve their lives. Although Pakistan has a well-organized financial system but the use of formal services is low, particularly among women, farmers and small businesses, hence the World Bank wants to support Pakistan in implementing its financial inclusion strategy over the next five years.
© Copyright IBTimes 2023. All rights reserved.