Quitting Level for Workers Highest Since 2008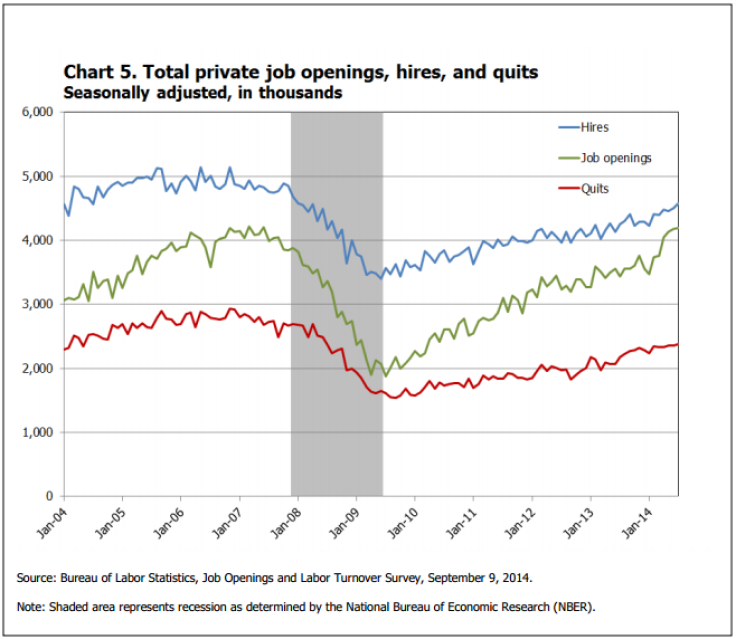 Let's hear it for workers who are quitting. The latest Labor Department figures show that 2.517 million people quit their jobs in July -- the highest number of workers to walk out the door since June 2008, as MarketWatch reports.
Economists view quits as an encouraging sign, signaling confidence among workers who think they'll be able to find a new job. The number of quits in July edged up slightly from the June 2014 level of 2.484 million.
However, the quit rate -- the number of quits as a percentage of total unemployment -- remained unchanged from the previous month. It still stands at 1.8 percent. The quit rate a year earlier, in July 2013, was 1.7 percent, according to the Labor Department's Job Openings and Labor Turnover Survey (JOLTS).
Roughly 300,000 more workers would have to quit in a given month in order to see a return to pre-recession levels. In December 2007, the first month of the recession, JOLTS registered 2.8 million quits.
Job openings in July decreased by about 2,000 from a month earlier, to 4.673 million -- though that stat remained near a 13-year high, the Associated Press reported.
Looking at the private sector alone, job openings "have increased since their low in July 2009, returning to precession levels at 4.2 million in July 2014," the JOLTS report said. Private sector hiring has increased 35 percent since a June 2009 low, but, at nearly 4.6 million hires in July, has yet to return to pre-recession levels. Quits in the private sector have increased 55 percent, to nearly 2.4 million, since their low point in September 2009.
© Copyright IBTimes 2023. All rights reserved.