Reactions To Marjorie Taylor Greene's Punishment Take Over Late Night TV [VIDEOS]
Late-night talk show hosts poked fun at the controversy surrounding Rep. Marjorie Taylor Greene and the QAnon conspiracy theory she disavowed in a floor speech.
Greene, a freshman Republican representing Georgia, took to the House floor on Thursday to try to distance herself from the Qanon conspiracy theory that holds, among other things, that a Satanic group of pedophiles has plotted against former President Donald Trump.
"I never once said during my entire campaign, 'QAnon'," she said. "I never once said any of the things that I am being accused of today, during my campaign."
On "The Late Show with Stephen Colbert," the host offered a comedic fact-check of her speech, arguing she's been shown to embrace wild conspiracies, such as denying the events of 9/11 and blaming 2018 wildfires in California on laser beams fired from space.
[Colbert starts his rant about 3 minutes in]
Trevor Noah, the host of "The Daily Show" on Comedy Central, said that Greene, who was stripped of her committee assignments, is actually on the winning end of the controversy because she still enjoys congressional pay, but has nothing to do.
[Noah starts right away]
On ABC's "Jimmy Kimmel Live!," the Comedy Central alumni said "klan mom" was in peak form for calling for unity in the halls of Congress. But on her first day in office, she filed articles of impeachment against President Joe Biden for debunked claims of meddling in his Ukrainian affairs.
[Kimmel lays into Greene at 5 minutes in]
Seth Meyers on ABC's "Late Night with Seth Meyers," played on Utah Sen. Mitt Romney's quip that there's no room for "kooks" in office by saying Greene, who voted against the outcome of the election even after the Capitol riots on Jan. 6, surely fits the bill.
[about 7 minutes in]
Eleven Republicans crossed party lines to eject Greene for her committee assignments on Thursday. But before the vote, she remained defiant.
"And if this Congress is to tolerate members that condone riots that have hurt American people, attacked police officers, occupied federal property, burned businesses in cities, but yet wants to condemn me and crucify me in the public square for words that I said and I regret, a few years ago, then I think we're in a real big problem, a very big problem," she said.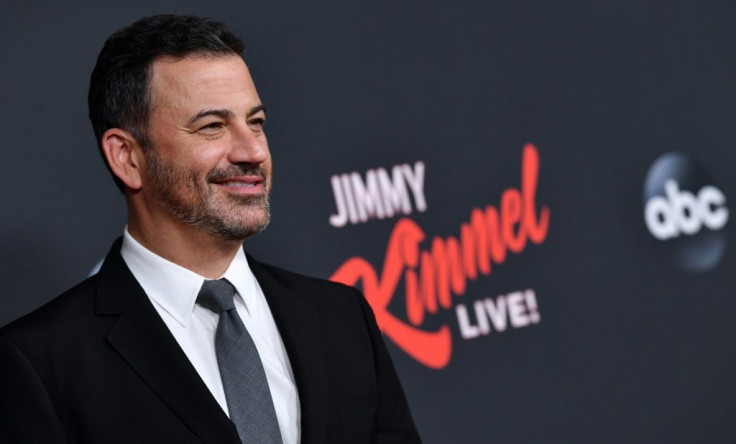 © Copyright IBTimes 2022. All rights reserved.
FOLLOW MORE IBT NEWS ON THE BELOW CHANNELS