Regional Price Parities And Real Personal Income: In States Like New York, Income Is Not Keeping Up With The Rising Cost Of Living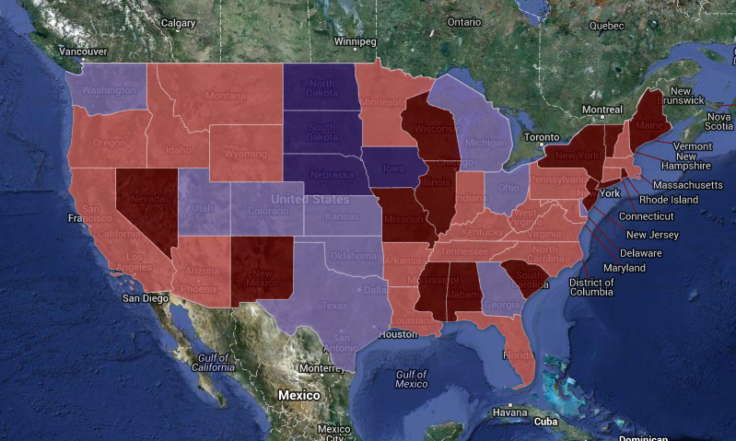 The rent really is too darn high, along with groceries and transportation costs, especially if you live in Hawaii; New York; Washington, D.C.; or New Jersey. And in some states, salaries just aren't keeping up with the cost of living, according to a new report from the Bureau of Economic Analysis (BEA).
On average, median personal income in the U.S., adjusted for inflation, rose by 2.7 percent from 2010 to 2011.
But in New York and New Jersey, two states in which the cost of living shot up at a much faster pace than the rest of the country, median personal income only rose by 1.8 percent, almost a whole percentage point lower than the national average.
Hawaii and D.C. fared a bit better -- even though cost of living shot up -- with median personal income rising at a rate slightly higher in both states than the national average.
As a result, the average New Yorker or New Jersey resident has to pay much more for things like rent, food and transportation, but on average, their salaries are not keeping up with their expenses.
On the other hand, life is pretty good for someone living in South Dakota. Not only is the cost of living the lowest of all American states, median personal income increased by 10.4 percent from 2010 to 2011, more than three times the national average.
Check out this interactive map of real personal income gains by state. Click on any state to see how much real personal income grew from 2010 to 2011 in that state. Refer to the key below the map.
Check out this chart that tracks the cost of living in each U.S. state, relative to the national average, and compare that to the increase in real personal income in that state. States are in order of highest cost of living to lowest.
© Copyright IBTimes 2023. All rights reserved.