Rep. George Santos Said His Grandparents Fled Holocaust, Genealogy Records Say Otherwise
Incoming US House Representative George Santos (R-NY) said that his Ukrainian-Jewish grandparents "survived the Holocaust," but genealogical records contradict his claims.
The Forward, a Jewish publication in New York City, first reported that genealogical website myheritage.com and online obituaries show Santos' grandparents as being born in Brazil. CNN's KFile and the New York Times reported they found no evidence to support Santos' claims after reviewing records on Jewish refugees at the Holocaust Museum, interviews with multiple genealogists, gathering information from the International Center on Nazi Prosecution and after re-creating the representative's family tree.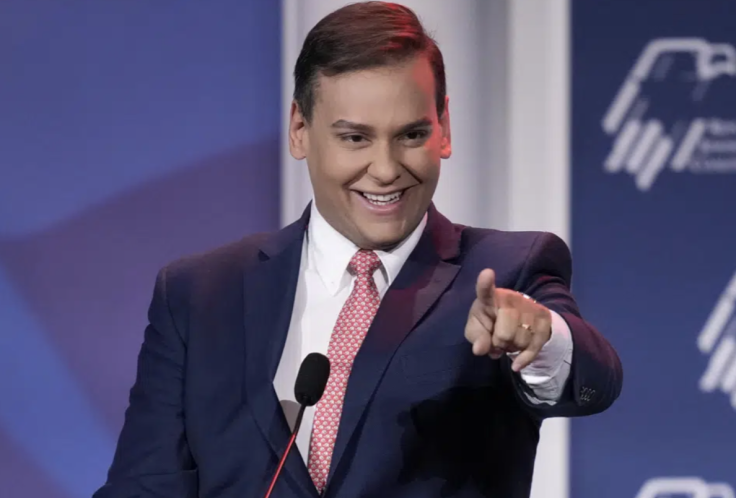 Santos has publicly claimed during media appearances and on his campaign that he is "half Jewish" and a "Latino Jew." He said his maternal grandfather was from Ukraine and fled to Brazil to escape Nazism. He also stated that his grandparents converted to Catholicism and changed their surname in Belgium during the rise of Nazism after fleeing the Soviet Union.
"I'm very proud of my Jewish heritage," Santos said in an appearance in late November 2022 with the Jewish News Syndicate. "I'm very proud of my grandparents' story. My grandfather fled Ukraine, fleeing Stalin's persecution, went to Belgium, found refuge there, married my grandmother, then fled Hitler going to Brazil. That's a story of perseverance. I'm so proud. I mean, I wish I could have met my grandfather."
The Forward reported that Santos' maternal grandparents were both born in Brazil. His grandfather, Paulo Horta Devolder, in 1918, and his grandmother, Rosalina Caruso Horta Devolder, in Rio, in 1927. An online obituary for Santos' mother, Fatima Aziza Caruso Horta Devolder, who died in 2016, says she was born in Niterói, a suburb of Rio de Janeiro, on Dec. 22, 1962, to Paul and Rosalina Devolder.
The Forward also reported that, before her passing in 2016, Santos' grandmother regularly posted about Catholic themes. "The cross of Christ for some is a symbol of defeat. For us it is a symbol of salvation," said one post.
Matt Brooks, head of the Republican Jewish Coalition, said the RJC "is aware of the claims being made against Congressman-elect George Santos. We have contacted his office directly to ascertain whether they are true. These allegations, if true, are deeply troubling. Given their seriousness, the Congressman-elect owes the public an explanation, and we look forward to hearing it."
The reports' contradictory evidence of Santos' Jewish heritage comes days after an investigation by The New York Times which revealed that most of the details in his campaign biography were untrue.
Santos claimed on his résumé that he studied at Baruch College to become a "seasoned Wall Street financier and investor" who worked at Goldman Sachs and Citi Group. He also listed an animal rescue group that saved more than 2,500 dogs and cats.
© Copyright IBTimes 2023. All rights reserved.