Republican Candidates 2016: Why Santorum, Huckabee Shouldn't Count On Evangelical Vote To Win White House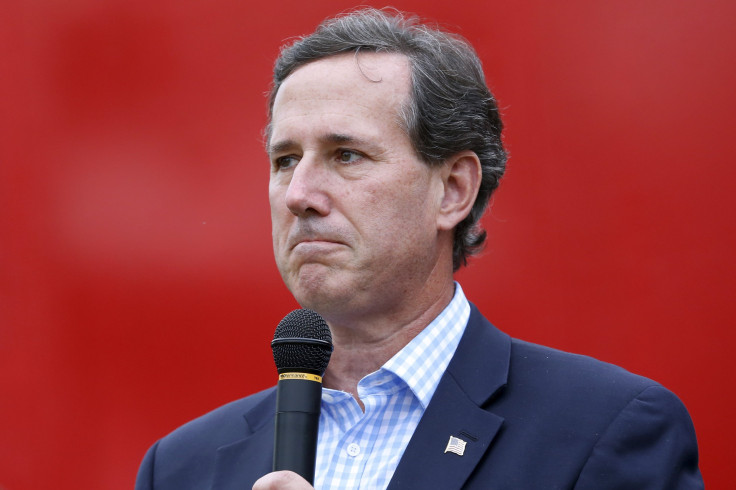 With a deep bench of presidential candidates who appeal to right-wing conservative and evangelical voters already in the GOP primary race, former U.S. Sen. Rick Santorum is looking at a steep climb to make his way back to his former front-runner status. While Santorum won over Christian voters with his traditional values during the 2012 presidential race, the crowded field this time around might see his candidacy get overshadowed by TV personality Mike Huckabee or rising tea party leader Ted Cruz, among other GOP leaders.
"There are a ton of top-tier candidates that can make a case to the evangelical community," said Andra Gillespie, associate professor of political science at Emory University in Atlanta. "So it's not clear that Santorum is going to have an edge."
Santorum and Huckabee both made their mark in the 2012 and 2008 fields, respectively, with their Christian, social-conservative credentials. Both still have solid support among early-primary-state voters. A Quinnipiac poll of likely Republican Iowa caucus goers released earlier this month found that voters think almost as positively about Santorum as they do, say, Scott Walker, another potential 2016 hopeful.
The problem for Santorum, however, is that they don't seem to want to vote for him. He was polling at 2 percent. Walker, on the other hand, is in the lead overall with 21 percent. Huckabee had 11 percent and was in fifth place overall.
Part of the problem is that Americans, even Republicans, are becoming less religous and more accepting of culturally divisive issues such as gay marriage and abortion rights. A separate poll in New Hampshire recently concluded that the number of voters who felt that social issues were the most important election issue was significantly lower than voters who cared more about the the economy, national security and health care.
Same-sex marriage, which is expected to be ruled on by the Supreme Court next month, is an increasingly sticky issue for Republicans. While there has been rising support for gay rights among the general population for decades, gay marriage has also caught on with young Republicans in recent years. In 2013, Alex Lundry, the director of data science for former Massachusetts governor and 2012 Republican nominee Mitt Romney, told Time that 64 percent of evangelical millennials were in favor of same-sex marriage. Just over a year ago, a separate survey indicated a similar spread of support for young Republicans. Nearly 80 percent of millennial Democrats, meanwhile, endorse gay marriage.
Republicans in recent months have seen firsthand how quickly public opinion can whiplash with so-called cultural issues. In April, Indiana Gov. Mike Pence, another potential 2016 candidate who could compete for a slice of the evangelical voter pie, signed a bill that was seen as discriminatory against gays, triggering a backlash from both liberal groups and businesses.
"From just a long-term standpoint, trying to rally around social issues might be counterproductive," Gillespie said. "The Republican party is really struggling to figure out how to respond to a culture that is rapidly changing in front of them."
On the other hand, Santorum did well in 2012 for a reason, said Charlie Szold, the communications director for the Iowa Republican Party. During that race, Santorum didn't start out soaring, but criss-crossed through Iowa's 99 counties to build support -- a feat known as the "full Grassley" in Iowa, after Sen. Chuck Grassley's campaign style of visiting every county. This time around, former Texas Gov. Rick Perry has visited the state more than any potential White House candidate, followed by Huckabee, then Santorum and Cruz, according to a tally by US News.
"Sen. Santorum has proven that you can never count him out," Szold said. "In 2012, he worked hard every day in Iowa to raise his name recognition and raise his support."
Whoever wins is "going to be a candidate that can build bridges," Szold added. "The Republican Party is a diverse party, and the candidate who can succeed is someone who can build groups, and really talk to those groups."
© Copyright IBTimes 2022. All rights reserved.
FOLLOW MORE IBT NEWS ON THE BELOW CHANNELS