Rights Groups To Protest Alleged Police Beating Of Black Teen Ulysses Wilkerson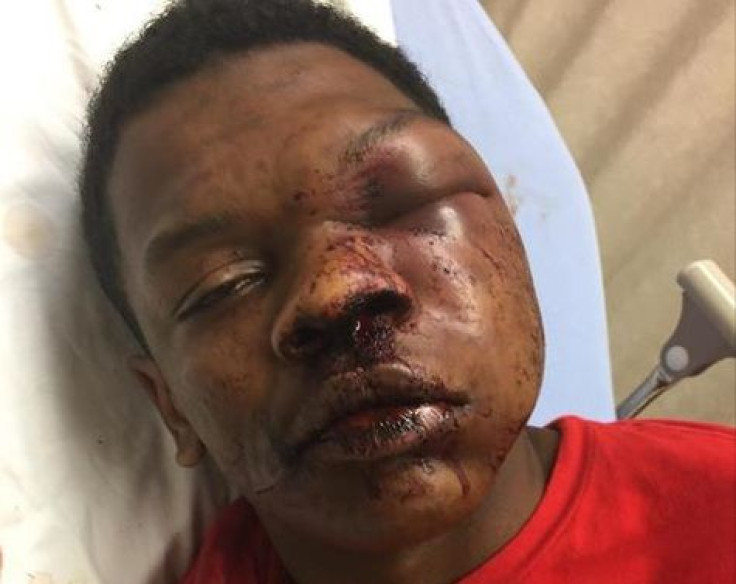 A 17-year-old teen was left battered and bruised Saturday during a police encounter in Troy, Alabama. The incident led to massive reactions and calls for protests around the city.
Ulysses Wilkerson was spotted by police officers as he emerged from behind a closed business in the city's downtown on Dec. 22, Buzzfeed News reported. The officers exited their vehicle and approached Wilkerson, which led to the teen running away from them. The officers then chased Wilkerson through a few streets, and a struggle occurred after they caught up with him.
The chief of Troy's police department asked for an independent investigation. A spokesperson for the department reportedly said all the queries regarding the case should be directed to the Alabama State Bureau of Investigation, who were now leading the probe.
The incident resulted in calls for protests across the city. According to a report by Mic, civil rights activist groups have planned to hold a protest Saturday and demand the police officers, who allegedly beat up Wilkerson, be held accountable for their actions.
According to a spokesperson of the National Action Network (NAN), a non-profit civil rights organization, local leaders of the organization are in talks with the Wilkerson family.
The Troy Messenger reported Wilkerson was charged with obstruction of governmental operations and resisting arrest, which are both classified as misdemeanors.
The report also quoted Troy Police chief, Randall Barr, as saying once Wilkerson was arrested, he "resisted arrest and refused to comply with commands from the officers to place his hands behind his back."
Barr continued, "Due to the subject's actions and failure to comply with officers' commands, officers had to use physical force to affect the arrest. The force used was reasonable and necessary."
Gerald Jackson, leader of an activist group named We Demand Justice, published a post on Facebook Thursday where he called for a protest Saturday and for the resignation of Barr and the Mayor of Troy, Jason Reeves.
Jackson's long post read: "Wilkerson was resisting an illegal arrest which is upheld under Alabama law. Officers had no warrant, probable cause or reasonable cause to arrest or stop Wilkerson. … He [Wilkerson] had the right according to the Supreme Court and Alabama Law to resist Troy Police unlawful arrest against him."
"We're asking TPD why they stopped Mr. Wilkerson," wrote Jackson. "We're asking them to produce something. We want to know why the officer brutally beat him the way he did and we want them to release the bodycam footage. Give us transparency. We have the right as taxpayers and the public to know what this government official did to this private individual."
According to the BuzzFeed News report, in a statement given by the Alabama State Bureau of Investigation, it was confirmed Wilkerson was arrested by Troy police officers at 11:52 p.m. UTC (6.52 p.m EST) Saturday. During the time of the arrest, Wilkerson was injured and taken to Troy Regional Medical Hospital, after which he was moved to University of Alabama Medical Center, from where he was eventually discharged.
The statement further said, "City of Troy Police Chief Randall Barr requested the Alabama State Bureau of Investigation (SBI) conduct an independent investigation into the use of force by his officers."
The investigation was still "open and active." State Bureau Lieutenant Heath Carpenter said Wednesday he couldn't confirm whether the police department ordered the leaves of the officers who were involved. He also said the "State Board of Investigation (SBI) does not have the ability to place any member of another department on leave."
Wilkerson's mother, Angela Williams, shared a picture of her son on Facebook on Sunday. In the caption, she stated, "Troy police officers did this to my son while he was in handcuffs." She also asked everyone to share the picture in order to spread the news of this incident.
Wilkerson's father, Ulysses Wilkerson Jr., reportedly told WKRG, a CBS-affiliated news channel, "He [Wilkerson] had trauma to the brain, swelling on the brain, and a cracked eye socket in three different places."
"They had him handcuffed when we got in there they said he was charged with obstruction of justice the ambulance came to take him to UAB the took the handcuffs off and dropped the charges on him ," added Wilkerson Jr.
© Copyright IBTimes 2023. All rights reserved.